The head of the Road Safety Foundation (RSF) has raised concerns about the state of local road safety engineering in the UK, suggesting the necessary skills and finance are simply dying out.
Dr Suzy Charman (pictured), executive director of the RSF, told the Road Safety Markings Association's annual conference that the situation had become critical in local government.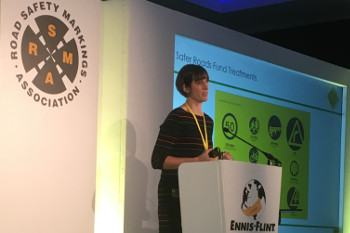 Fresh from the success of the £100m Safer Roads Fund (SRF) to tackle 48 stretches of dangerous road, Dr Charman outlined how much of a breakthrough the cash was.
'A lot of the local authorities told us they had no capital to spend on road safety and even the larger counties would have £1m to £1.5m to spend a year. These are very small amounts when it comes to road safety.
'We came along with the Safer Roads Fund cash and said, "you have £2m to spend on just one road", so it was a real game-changer, and really important to keep those road safety engineering skills alive.'
Roads targeted by the fund could be up to 50 times more dangerous than other routes.
The £100m cash pot was originally slated as £175m but was scaled back, with the remaining £75m unanswered for. The cash has been allocated and will be spent by March 2021.
'We estimate 1,450 lives and serious injuries will be saved over 20 years [because of the SRF] with a societal benefit of £550m. When you factor in maintenance and refreshment it has a benefit cost ratio for the whole portfolio of 4.4. This is much higher than HS2's [estimated at around 2.27 by government].'
Road safety improvements have stalled in the UK, in part due to the reduction in financing and skills in local government, meaning the international target of halving road deaths by the end of the decade is set to be missed.
Dr Charman told the RSMA: 'We have done well since the 1970s. road death numbers dropped off fairly swiftly. We have had two plateaus - one in the late 90s and most recently since around 2010/2011.
'That is in the context of international endeavours and sustainable development goals that are trying to see road deaths reduce by half within a decade. Really we should be trying to reduce deaths by half since 2010. We are not going to get there we are not going to get even close to there.
'Our calculations show by not halving deaths, we have lost an extra 2,500 people to road traffic crashes. An astonishing number just because we have not been tracking what we should have been.'