Eurovia has been building up a reputation for customer-focused innovation, designed to maximise value. Technical director Paul Kidd, talks to Highways about how the company is taking this approach into the operational realm of maintenance and construction.
In our sector, the 'customer interface' is usually between 25mm to 60mm thick, and the more it goes bump, the unhappier your customers will be. The user's sense of safety, satisfaction and confidence is almost all compacted into that one layer. It is not quite that simple of course, but it does make you think just how important it is to get the basics right.
Training
The development of essential technical excellence is something Eurovia has been progressing over the last decade. In 2010, it started running highways excellence training workshops with its surfacing crews under the strapline 'Raise the Bar' – a phrase Highways England has since taken on. The process received an extra boost when the company took on major long-term contracts, such as in the London Borough of Hounslow. With the responsibility to maintain an asset for 25 years comes all the benefits of 'right first time' working and added asset management value.
Mr Kidd says: 'We had a challenge to upskill all of our surfacing teams and supply chain partners to make sure we developed paving technicians who would ensure it was laid right first time. So we developed a training programme - "Sector 16 to Formula Road" - that went back to basics and was delivered as a series of modules. We did not just want to confine it to our long-term contracts however, so we rolled it out to all of our surfacing crews. We wanted to standardise and upskill everybody to the same level.
'Our Formula Road training programme was developed involving the workforce, operational teams and our technical consultancy, Jean Lefebvre UK. We launched it in 2012 and have so far trained around 450 people, including a number of our clients, and have been delivering that this training every year.'
The results make sound business and asset management sense. Following the training and the workshops, we have seen an 80% drop in residual defects over the period since 2012.
'The quality aspect of the laying, with the requisite attention to detail, is something that has been missing in the industry as a whole over the last 10 years. Formula Road is our badge of quality. That is part of our culture now,' Mr Kidd says.
This training and associated culture shift supported progress in technical operations through intelligent plant and materials as well, in tune with the digital and sustainable economy of the future.
Plant
Mr Kidd says: 'The technical innovation and operational side is my main focus in terms of using the modern equipment we have now, particularly in compaction. It is a key module in the Formula Road training programme and something the industry has not focused on enough.
'We started using intelligent rollers eight years ago and have gained a lot of experience using oscillation compaction and data capture.'
Eurovia has recently invested in "ASPHALT MANAGER 2" equipped BOMAG 174 rollers in the UK including the 1st hybrid asphalt rollers, which deliver up to 20% savings in fuel and emissions.
'Another beauty of the new rollers is the advanced intelligent Drum Control System. This unique system allows the operator to set the roller to automatically compact the asphalt to a pre-set level. The drum then tests the stiffness of the material as it rolls and adjusts the compaction force up or down automatically. The new BOMAP system is also GPS linked, so we are recording the usual passes and temperatures, and now the compaction data, from Asphalt Manager 2. Typically, roller drivers will have to go back and forth, and compaction is often done blind. This technology means you only do what you need to do to achieve the required compaction and finished surface.'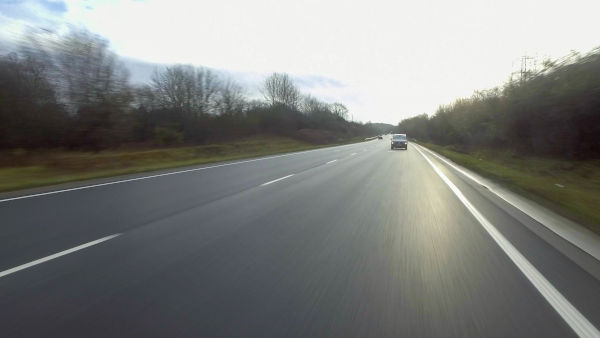 Eurovia recently applied the Formula Road approach on its Wendover Bypass project, funded through HS2, on behalf of Buckinghamshire County Council. This scheme delivered an ultra-quiet road surface course for the residents of Wendover.
'For Wendover Bypass, we are predicting an asset life of 10 years plus. We were able to build out our Integrated Spray Jet Pavers to six metres, to resurface a 12m wide carriageway in two lanes instead of the usual three lanes. This reduced the number of longitudinal joints over the 2km site to just one down the middle of the road.
'We improved the quality of the cold milling process using planers fitted with the latest laser technology, Wirtgen's Performance Tracker, including 'LEVEL PRO PLUS', and Mill Assist. These advanced systems monitor and control performance, economy and quality. We decided to optimise the quality mode by using numerous levelling sensors to automatically control milling depth, ensuring a very even, premium planed surface. This creates optimal conditions for the binder and final surface course layers. Our Integrated Spray Jet Paver also uses similar technology, including averaging beams, which removes the need for manual adjustments when laying asphalt and delivers premium rideability results.'
Using the automated quality assurance eLOAD system developed by HDS, our teams were able to pave continuously over 2km. That meant no stopping and no joints. The automated testing and rolling straight edge results showed we were down to around 1mm to 2mm accuracy over 2km. That is like a billiard table. The rideability is second to none. The compaction, the finished surface, is a lot better.'
Recruits at Eurovia - it recently advertised for 13 apprentices – are able to enrol on the new IAT Road Surfacing Operative Apprenticeship and have the opportunity to become expert paving technicians, not just through classroom learning and site experience, but by training up on the latest plant technology. The result is real-world improvements that can be tracked, monitored and proved through a digital twin of the road, created through readouts from the various connected plant that goes into building the road. This means both contactor and clients can monitor a whole host of data, including the temperature materials were laid at when they arrived on site and the exact compaction levels achieved.
Materials
Another big push from Eurovia is a call for greater take-up of warm mix asphalt materials. Again, this is part of a longstanding commitment.
'We started doing trials of Eurovia's warm mix asphalt (Tempera) which was first produced and laid by Eurovia UK in 2006. Over the last few years, we have really been pushing it again with a number of clients. A number of these, such as Worcestershire County Council, are very proactive in taking warm mix asphalt. It is becoming the default material of choice. Essex County Council, for example, are now specifying all binder course materials as warm mix.
'We have proved it works, and we have proved its longer-term performance. We now need to further develop the use of warm asphalt, across a wider range of products including surface course materials, which is another area we are working on. But the carbon savings are there'.
As Mr Kidd points out, it is the responsibility of the sector at large to be aware of what is available and why it needs to be right first time.