An exclusive survey of senior staff in UK winter service gives fresh insight into a proactive sector, keen to engage with the public, with a significant proportion of councils interested in trialling new technologies.
With scores of winter service officers taking part and around 90% of respondents from management or senior management level at highway authorities across Britain, the latest Highways Asks poll has shed new light on winter resilience in this country.
Conducted in partnership with Exactrak, the survey found that the vast majority (82.9%) of respondents had a plan for active community engagement in winter service, with 4.9% trying to establish one.
Of all the methods for community engagement, social media has now become the most popular, used by 85.4% of respondents, even higher than the use of council or company websites (78%).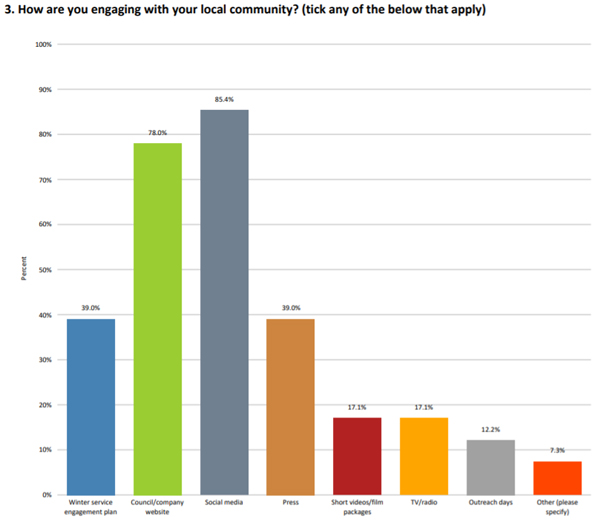 Communications were also conducted through a published winter service engagement plan (39.0%), the press (39.0%), short videos/film packages (17.1%), TV/radio (17.1%), and outreach days (12.2%), with a small minority using other methods.
However, while 85.4% of respondents were confident or very confident that winter service communication delivered benefits, the majority (64.3%) did not have a specific budget resource to communicate winter service plans.
The main benefits of engagement were seen as:
fewer complaints (70.0%)
community satisfaction 57.5%
aids journey planning 40.0%
quicker response time to queries/complaints 40.0%
fewer incidents on the roads 27.5%
Reducing the number of complaints to a highways service is understandably a high priority and the survey gave a snapshot of the high number received every year, with 41% of respondents having more than 1,000 complaints annually, and a further 15.4% having between 501-1,000.
Asked what percentage of the complaints made to highways departments related specifically to extreme weather, around one in six of respondents estimated it could be even higher than 40%.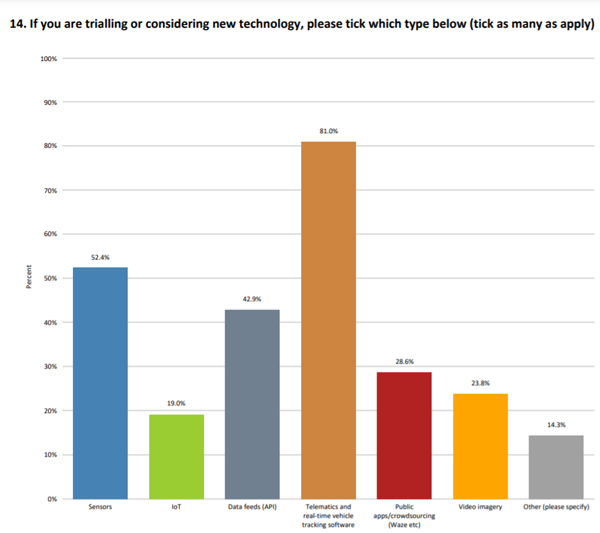 The majority of respondents still received complaints by phone (85.7%) as well as through an online portal (78.6%) or website form (71.4%), but around one in five now also use a bespoke app or software (21.4%).
Despite the willingness to engage with the community, around 60% were not communicating live gritter information.
Of the 40.5% of the sector that is releasing up to date gritting information to the travelling public, the majority (81.3%) used social media engagement, while 62.5% used council website updates, 37.5% updated their published winter maintenance plans and 31.3% used an online portal.
The sector ranked well when it came to having up to date winter service routes across the network, with 61% updating the routes in the last year, and a further 24.4% in the last two years. Only 7.3% had not updated their gritting routes in the last five years.
Exactly half were 'trialling or considering new technology to support winter service data gathering and communication'. The list of new technologies being considered included:
telematics and real-time vehicle tracking software 81.0%
sensors 52.4%
data feeds (API) 42.9%
public apps/crowdsourcing 28.6%
video imagery 23.8%
Internet of Things 19.0%
Exactrak's telematics manager Mark Wilcox said: 'The survey responses and detail provided confirms the importance in the ongoing use of telematics in the winter community. It's interesting to see the industry is moving forwards with community engagement and enhanced decision-making by using additional data via real-time feeds, such as the use of infill road surface temperature sensors.
'It is great to see the vast majority of councils are confident that community engagement works and can save them time and money for instance in reducing the sometimes thousands, of queries that come in from the public – many of which are still by phone.
'By providing real-time gritting information, councils can give communities confidence and assurance that their networks are being protected, as well as information vital to their journeys, so it was great to see that a significant proportion of major authorities already using real-time gritting data. And, of the councils keen on trialling technology, more than four in five (81%) were interested in telematics and real-time vehicle tracking software 81.0%. Clearly, the councils that are not currently using live gritting data are interested in trialling it.'
The survey had more than 40 respondents and, although it was self-selecting, it went out to the Highways magazine database, which is independently verified under ABC circulation auditing. Highways also conducted a rigorous evaluation process, removing any responses that could be considered spam or did not provide details of their organisation.