Road marking specialist WJ Group has developed a Product Carbon Footprint Model, which details the embedded carbon in supply chain raw materials, and represents a major step forward in developing best practice climate impact analysis in the road markings and wider highways sector.
A model innovation
WJ's model provides quick, efficient, and reliable at-scale carbon footprinting for all current and future thermoplastic products, independently verified to PAS 2050:2011 and ISO14067 (2018).
This 'cradle-to-gate' life cycle assessment model calculates the footprint of each product. It measures embedded carbon in each of the ingredients within their formulations and the energy used in production.
This information can then be used to develop less carbon-intense products or reformulate current products to reduce carbon intensity and adverse environmental impacts.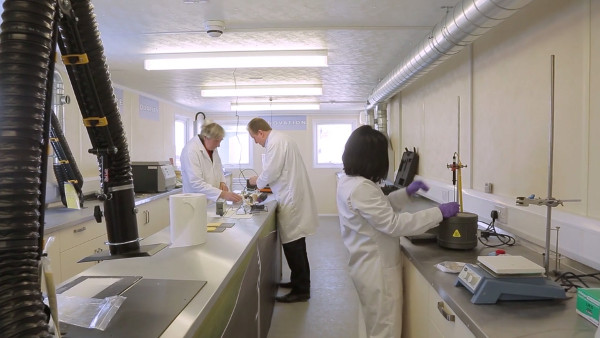 The model has determined that switching from Hydrocarbon Resin to a Bio-Based (Rosin Ester) reduces average CO2e per tonne from 2.74 to 0.52. Based on a like for like product comparison this would reduce C02 emissions by 81% or a 22,200 kgCO2e reduction in WJ's total product emissions.
This accredited measurement methodology combined with life-cycle thinking and effective chemistry can be seen in WJ's range of high-performance materials. Its Weatherline product uses a bio-based binder, producing high retroreflective performance in wet or dry conditions, and it has up to five times less embodied carbon of traditional high-performance systems.
Carbon reduction should be an integral part of the procurement process in the highways sector, according to Paul Aldridge, sustainability director at WJ Group, who is encouraging more companies to significantly reduce carbon as part of any future projects.
Mr Aldridge said: 'At the moment there is not enough incentive for companies to make the necessary changes to reduce carbon quickly enough. Maybe it will come down to regulation in the end, but we can't wait, we have to act now. The sector has spent a long time talking about this, but not doing a lot, now is the time to change that.
'Simple things can make a big difference. If we knew the footprint of all companies and all materials and understand them, we could start to change things. WJ can now make more than 80% reduction in embedded carbon in materials at no cost to our clientele, and if anything with a slight performance gain. Why do we not specify this? If specification is too slow and cumbersome then at least it should be an essential part of the procurement process,' he added.
The WJ initiative is a significant step forward for the road markings sector in its efforts to accurately measure embodied carbon, then formulate and manufacture marking materials combining high visibility and durability with the lowest carbon footprint. This project has formed part of WJ's wider environmental sustainability project.
A challenge for life
Government figures from 2019 confirmed that the majority of Britain's greenhouse gases now come from transport. According to a report by the Office for National Statistics, Britain's greenhouse gas emissions from road transport have continued to grow since 1990, rising 6% over those three decades.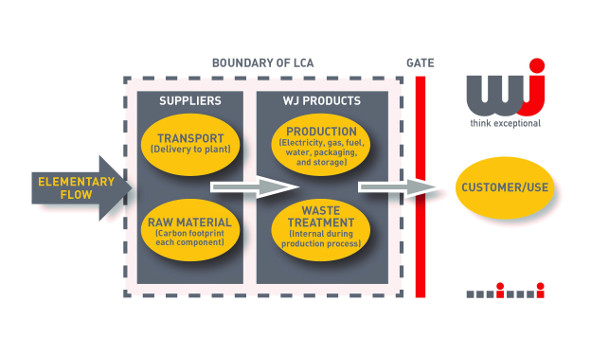 WJ's Life Cycle Analysis (LCA) approach (above) also highlighted areas of excellence within the firm's supply chain where it can collaboratively source and develop materials that are recycled or exhibit low carbon and other benefits.
Another benefit from the LCA approach is confidence in the provenance of materials. This gives WJ confidence that these directly purchased materials come from organisations that practice fair and safe employment practices. WJ is a signatory of the Construction Protocol and requires its supply chain to adopt similar standards.
'Specification and procurement changes are essential if we as a country are going to meet our sustainable development goals. It is possible to procure not just on price and there are many excellent examples where quality has a higher score. It is imperative to recognise the importance of carbon intensity of products and their delivery. Many believe this should be a serious part of the specification and then procurement of goods and services,' said Mr Aldridge.
Collective efforts
The highways industry is starting to make some progress on carbon. One example is Skanska's Net Zero 2045 project to become carbon neutral by 2045 without purchasing carbon credits for offsetting. Skanska has been dubbed a 'zeronaut' – a business that has committed to a net-zero or net-negative carbon pathway – alongside big brands such as IKEA, BT, Aldi and Bosch who will do the same.
Also, local authorities such as Dorset County Council have declared 'climate emergencies'. The council said it has 'an obligation to demonstrate leadership-thinking globally about the implications of climate change and acting locally to help address it in our communities'.
'There are lots of excellent, admirable commitments and plenty of positive actions, but yet these are far from co-ordinated,' added Mr Aldridge.
'The highways sector needs someone to take the lead on this whether that is a membership association or other industry body. Co-ordination and collaboration are key to making this work,' he said.
'The 'climate emergency is happening now and all highways businesses have a vital role to play in overcoming it.'
As part of the second phase in its environmental agenda, WJ is already working on another 'industry-leading' carbon reduction project.
Mr Aldridge suggests that the highways industry can learn from actions already taken in other areas of life. Giving a hint as to where this could lead, he said: 'Take the home for example. Energy ratings that can be found on fridges and other similar household appliances could easily be applied to highway projects.'
Calculating the impact
While building their carbon calculator WJ also realised that waste in their manufacturing plants was low in any comparator with the construction sector, typically less than 1%.
A key element to this success is the installation of powerful extraction systems giving improved air quality to manufacturing staff and clever chemistry adjusting product formulations to allow reuse of the captured dust.
Also, WJ invested in a sustainable method of screening waste from its giant road stud operation – it is the largest installer in Britain, putting down approximately 1.4 million annually with many temporary products. After use they are swept up and sent to landfill, however, WJ's screening process saw a 90% reduction to landfill with an estimated cost saving of more than £30,000 a year.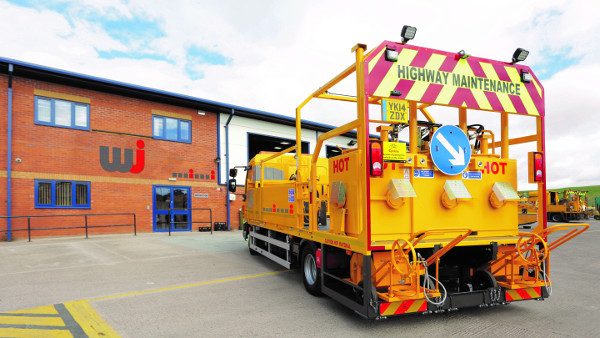 Operational factors can also make a big difference. On its London and Birmingham based fleets, WJ had a frequent requirement to send two trucks to site, one for traditional white/yellow markings and one for red markings or coloured surfacing.
As a result, it has led the way in developing a triple preheater vehicle (above) to apply white, yellow and red markings in one site visit and in developing Combi trucks to provide high friction surfacing and/or road markings on one visit by one vehicle.
These developments mean fewer specialist vehicles, fewer journeys, less traffic management, less congestion, fewer accidents, less impact on the community and improved efficiency with more than 50% emission reduction.
Mr Aldridge represents WJ on the LoCITY Waste and Construction Group and they have adopted a programme in their business plan to rapidly reduce nitrous oxide and particulate matter emissions from the WJ fleet.
WJ also has an on-going programme to install photovoltaic power at all its depots. WJ South the custom-built facilities are already carbon positive, putting more electricity into the grid than they draw. And at WJ Products in Bradford, the entire team cycle to work many days and have adopted car sharing on most the days where there is unpleasant weather.
Mr Aldridge concluded: 'Our overall vision for a sustainable future is to create a company and culture that delivers environmental, social and economic value for our people, communities and ourselves.'