The National Farmers Union (NFU) has written to the environment minister to propose an amendment to the Highways Act 1980 that will allow for temporary diversions of public rights of way where livestock are present.
The NFU said it has worked with the Country Land and Businesses Association on the proposed amendment, which follows recent incidents where members of the public have been killed by cows.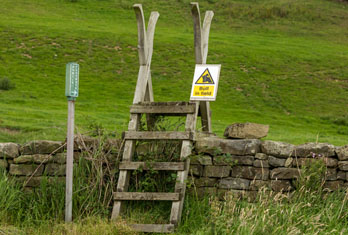 It said the existing 'complex and bureaucratic' process for permanently diverting public rights of way does not provide the flexibility to allow for temporary diversions.
It added that the proposed amendment, if taken forward, 'will allow for temporary diversions to be put in place easily and quickly where livestock are present for the safety of the users [and] provide the necessary flexibility to ensure that farmers can make best use of their available grazing and enhance the safety of public rights of way users'.
Deputy president Stuart Roberts said: 'Sadly, we have learnt of several incidents in the past month in which members of the public have lost their lives. Our sympathies are with the families of those involved.
'The countryside is a busy working environment, so we need to ensure that the millions of people who visit every year can continue to do so safely and responsibly.'
The NFU acknowledged that: 'In order to be successful it would also need to provide adequate safeguards for the rights of way network, so provision has been made to ensure that the alternative route offered is suitable.'
Gemma Cantelo, head of policy and advocacy at the Ramblers said: 'Each of these incidents has profound consequences and we would like to express our deep sadness for all involved. There are an estimated 1.4 billion visits to the countryside each year and tragedies like this are thankfully very rare.'
'As drafted the plans do not provide the safeguards needed to make sure the public can access the countryside with ease and certainty – there's no guarantee that alternative routes aren't less convenient or enjoyable and they could disproportionately affect access to the countryside.
'We have explained this concern and others to our colleagues at the NFU and hope to be able to work together to find a solution that works for all.'