A civil engineering company has installed its own lab at a supplier's quarry to ensure that the stone meets its standards on a major scheme.
The King's Dyke level crossing scheme is being delivered by Jones Bros Civil Engineering UK on behalf of Cambridgeshire County Council.
It includes constructing a new road and bridge over the Ely to Peterborough railway line crossing at King's Dyke on the A605 near Whittlesey. The level crossing will subsequently be removed as part of the programme.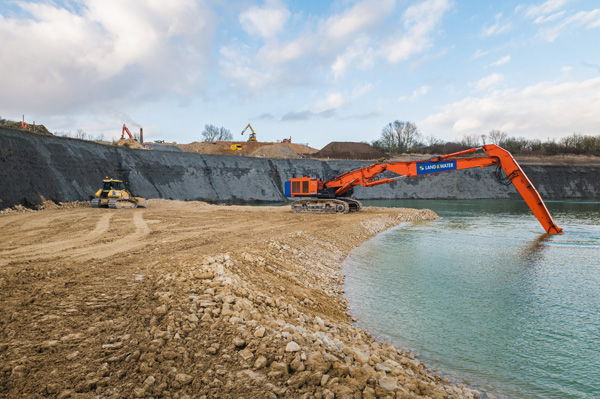 Jones Bros is testing limestone supplied by G Webb, which is being used to partially fill Star Pit (pictured above), a flooded former clay pit that borders the project. Samples of the stone are examined daily using a mobile lab by an accredited testing company, Celtest, to guarantee quality and safety before delivery.
Construction manager Rhydian Hafal said: 'We have a strict specification to work to, and we need to make sure the material is suitable for the embankment it's being used on. Because of this, we lab test every type of stone that we use.'
The criteria that the stone needs to meet cover its grade and strength, to ensure that the embankment and road built close to the infilled portion of Star Pit are on firm foundations.
A total of 85,000 tonnes of stone is to be delivered, the equivalent of five of the Royal Navy's largest submarines, or 14 Olympic swimming pools, with 12 lorries working to deliver around 1,200 tonnes each day.
G Webb is a third-generation family business, based in Longstanton, Cambridgeshire. Its operations director, Darren Allison, said: 'It's been a very nice project; Jones Bros is a good firm to work with, and we've taken a collaborative approach to finding the best solution on site.
'I've always lived in Cambridgeshire, so I know what it means to the area in terms of journeys: it'll make life much easier once the scheme is completed.'
The scheme is due to open to traffic by the end of 2022.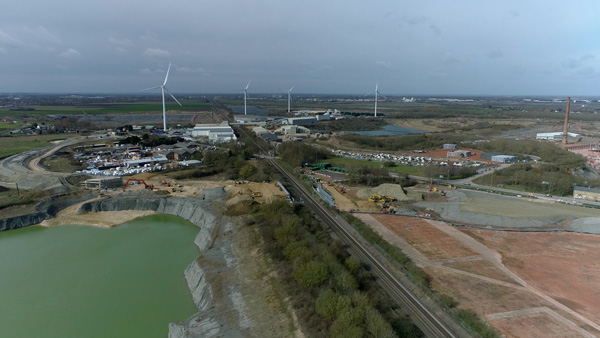 Drone image of the King's Dyke site