Galliford Try has announced a strategic review that will reduce the size of its construction business following worsening financial performances, including on two major Scottish road projects.
The firm stated it expects the outcome will reduce its full year post-exceptional profit before tax by £30m-£40m below 'the current consensus analysts' forecast' after assessing operational progress and contract positions throughout the construction business.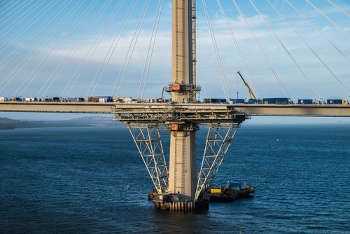 'The Board anticipates that this review will result in reduced profitability in the current year reflecting a reassessment of positions in legacy and some current contracts and the effect of some recent adverse settlements, as well as the costs of the restructure,' it said.
It disclosed that the single largest element of the assessment relates to the Queensferry Crossing joint venture, 'which has recently increased its estimated final costs on the project'.
It added: 'With regard to the claim in respect of the completed Aberdeen Western Peripheral Route (AWPR), and the previously disclosed £38m work in progress balance in respect of three contracts for a single client, our position is unchanged.'
In its first half financial results for the period ending 31 December, published in February, Galliford Try booked 'further exceptional costs of £26m from completion delays' to the AWPR, despite the completion of construction.
It stated that 'constructive dialogue with the client [the Scottish Government] continues regarding significant and recognised claims'.
Both the Queensferry Crossing (pictured during construction) and the AWPR were procured by the Scottish Government on fixed price contracts, meaning that the joint ventures building them would take the loss on any cost increases, albeit that Galliford Try's claim regarding the AWPR seeks to recoup some of its losses. The completion of both was delayed.
The firm said it anticipates finalising the assessment in the next few weeks and will share the detail of the review of the construction business along with a further update on group trading in its scheduled statement in May.
It said the review will 'reduce the size of the construction business, focusing on its key strengths in markets and sectors with sustainable prospects for profitability and growth, where we have a track record of success'.