Norfolk has become the first place in UK to trial new technology to warn drivers not to use mobile phones, the county council has said.
In partnership with local firm Westcotec, Norfolk County Council's road safety team has been working to develop and deploy a mobile phone detection system for use on the county's roads.
It said the system, launched on Tuesday (10 July), is the first of its kind, identifying phone use from inside the vehicle to tackle the issue of using phones behind the wheel.
The unit can identify what type of signal is being transmitted or received by a handset and whether it is being used via the vehicle's Bluetooth system. When the relevant signal is detected, indicating that a mobile phone is being used within the vehicle, the road sign is activated as the vehicle passes, a specific flashing visual message that will prompt a driver to stop using their phone.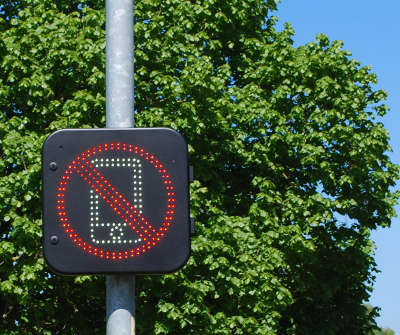 Diane Steiner, the council's deputy director of public health said: 'New technology enables us to provide a reminder to drivers who may be using their handset whilst driving.
'Whilst this is still not a perfect science, the new generation of sign is significantly more accurate and reliable than the first.'
Inspector Jonathan Chapman from Norfolk roads policing unit said: 'We will be using the information provided by Norfolk County Council's road safety team to help us target drivers in the future but the message is simple – leave your phone alone whilst you're behind the wheel.'
The council said that 'there is no facility to record specific number plates at this time, although this is likely to be a future development'.
The detection units have initially been deployed at on roads in Norwich, Holt, Toftwood and Attleborough.
The council plans to keep the units on site for a month before being moved to a new location. Roads police will then use the intelligence provided by the units to enforce the law at the same location.
Westcotec is a technology company based in the East of England specialising in the manufacture of vehicle activated signs.