A civil engineer and project manager at Jacobs has built a scale model of the Forth Bridge entirely out of Lego and is hoping to convince the company to add it to its official range.
Michael Dineen (pictured below with his model bridge) realised that the much-loved (by engineers of all ages) world of Lego does not already have a model of the world-renowned Forth Bridge on its shelves, despite it being one of Scotland's most iconic structures. In fact Lego seems to have precious little to represent Scotland at all.
So, as a proud Scot with a love for civil engineering and a desire to educate and inspire others, Mr Dineen spent four months constructing a prototype with the hope that he can get the 10,000 supporting votes needed for Lego to consider making it an official product.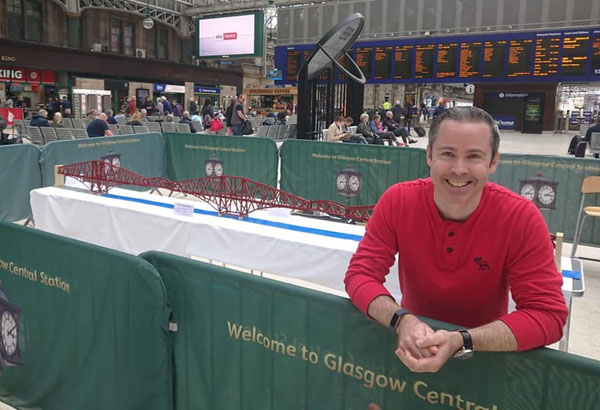 Having achieved thousands of votes already Mr Dineen needs your help to make sure Lego can bring one of the world's great engineering feats to homes all over the world. Click here to vote and lend support.
The 4.7 metre is built to 1/352 scale - 'due to the size of the Lego pieces' - and recently took pride of place on display in Glasgow Central Station and was featured in a BBC documentary about the station (See 5 min 30 seconds in and again at 20 mins).
Mr Dineen said: 'It's something that I feel Scotland deserves. It's Scotland's most iconic structure. It's renowned and recognised throughout the world.
'Lego do not have any Scottish sets on their shelves and I see this as the perfect way to not only introduce Scotland to the Lego shelves but also to expand their offering of bridges.
'Not only is it great fun to build, but it also teaches the builder about some of the basic principles of bridge engineering and adopts the same construction principles as used to build the real Forth Bridge.
'Once each tower has been built you need to build each element of the cantilever at equal rates, maintaining the balancing of forces at all times else the model will topple over (just like the real thing). Each third of the model is self-supportive and can even support the entire suspended section at either end of the cantilever.
'I sincerely hope to achieve the 10,000 votes required in order for the Lego board to consider adding this STEM inspired model to their shelves.'
The hope is Lego will also consider adding a scaled train to run across the track.
For those who want to make the obvious joke, yes it did actually take a long time to paint because certain Lego pieces needed for the structure only come in white.
This meant Mr Dineen had to hand paint 240 individual pieces using model paint.
As initial market feedback for Lego, one young person on the BBC documentary said the model was 'magnificent' and 'beautiful'. Highways agrees.