Winter maintenance vehicle manufacturer Econ Engineering is celebrating the start of its 50th year in business with a series of events that will showcase its market leading products and services across the UK.
To celebrate its 50th year, the company has built a 'golden' gritter that will tour the UK in the autumn, visiting communities. The special gritter was unveiled at Cold Comfort in Harrogate on Wednesday (15 May), before it is returned to Econ's Gritter Museum, a showroom of historic machinery based at its factory.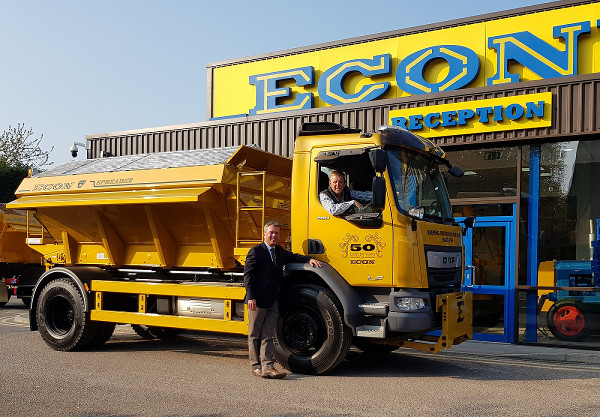 Andrew Lupton outside the gold gritter next to his brother, Jonathan
The UK's largest gritter and road mending vehicle manufacturer, Econ employs over 200 staff at its HQ and manufacturing base in Ripon, North Yorkshire, has a turnover of £28m and produces 80% of all the salt spreading vehicles used on the UK's roads.
The family business continues to recruit for new staff after another upsurge in orders from local authorities and other clients. It is also set to open a new depot in Alloa near Stirling later this year.
Econ sales director Andrew Lupton said: 'We're really proud of the team and their work, and we recruit people from all over the local area in any number of roles, from welders and mechanics to designers, engineers and administrative and accounts people.'
He added: 'The Golden Gritter is unique, and is a symbol of what we hope will be another 50 years as a vibrant and innovative manufacturing business.
'We currently produce 80% of the gritters operating on British roads, and with our fleet of 750 spreaders, we also run the country's largest hire fleet, which puts us at the forefront of Britain's winter maintenance operations.'