The A14 improvement scheme – Britain's biggest road project – is set to open more than half a year early, Highways England has announced.
The government-owned company said the scheme was due to open at the end of the year but it now plans to open it this spring.
The news follows the recent December opening of a part of the 21-mile scheme – Huntingdon southern bypass – a year early, albeit as an A road rather than a motorway.
Highways England chief executive Jim O'Sullivan said: 'The A14 is a vital route used by 85,000 drivers every day and including more than 21,000 hauliers transporting essential goods around the country.
'Opening this scheme more than six months early and on budget shows what the UK construction industry can achieve working with Highways England on the strategic road network. I would like to thank them for their focus on our joint success and for their one-team approach.
'Also, I would like to thank road users, residents and stakeholders for their patience and support during our work. This road is not just a piece of national infrastructure - it brings benefits to the region and local towns and communities too.'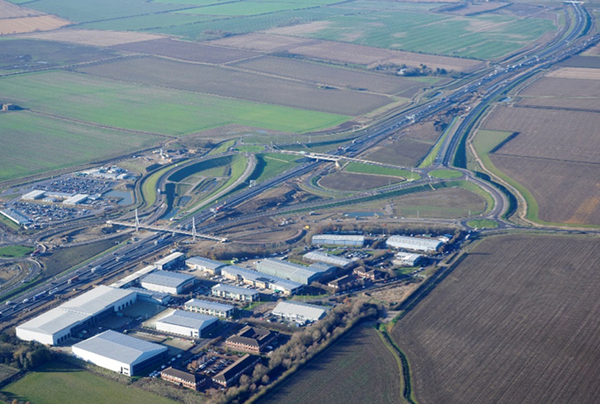 The new Swavesey junction with its landmark pedestrian and cycle bridge
Work on the project began in November 2016 and has employed around 13,000 people in total, with up to 2,500 working on-site during the project's peak.
As well as the Huntingdon southern bypass, the project includes an upgrade to the A14 between Swavesey and Milton and a new local access road, the A1307, which runs parallel to it between Cambridge and Godmanchester.
Approximately 24 miles of new routes for cyclists, walkers and horse riders are also included in the scheme.
The spring opening date will mark the end of permanent roadworks and reduced speed limits on the new roads but some activities such as landscaping, installing new technology, and work in the verges will continue, with some temporary overnight closures or off-peak daytime lane closures.
Highways England said that later this year it expects to seek planning consent for proposals for a new dual carriageway A428 between Caxton Gibbet and the Black Cat junction with the A1 in Bedfordshire, and a £300m scheme improving three junctions and upgrading three stretches of the A47 to dual carriageway between Peterborough and Great Yarmouth.
The government-owned firm described the A14 project as a trailblazer for safety and environmental best practice, with measures including:
sourcing much of the 10 million cubic metres of earth need to build the road locally and transporting it via haul roads to minimise the use of the road network
building bridges and bridge components at the side of the road before installing them to minimise the number of closures needed
using 100% renewable electricity and non-potable water throughout the project
trialling technology such as an autonomous dump truck and a line painting robot to reduce the risks to road workers on site
creating over a hectare of new, connected habitat for wildlife and planting more than 900,000 trees and shrubs – two for every one removed before work started.