Highways England is seeking bidders for up to 14 places on a construction works framework for its East region worth up to £340m.
The Government-owned company has published the contract notice for the framework, which is one of three for the region formerly known as Areas 6 and 8 under its asset delivery model.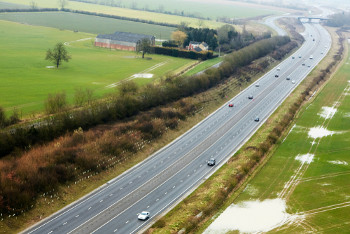 Last year Highways England announced a 15-year maintenance and response contract for the region worth £490m.
The length of the new framework is 54 months, which includes a six month mobilisation period with an estimated total value of £340m. The notice states that the envisaged maximum number of participants to the framework agreement is 14.
'Construction Works Framework (CWF) will be made up of a number of different contractors from different specialist areas who will work together to deliver network improvement and maintenance schemes within the East Region.' It adds: 'Highways England may also use this framework to deliver works in any other HE operational area as a contingent measure,' the notice states.
The framework is divided into eight lots with any one tenderer permitted to bid for a maximum of three lots.
The lots are:
Temporary Traffic Management
Road Restraint Systems and Fencing
Road Markings and Road Studs
Road Lighting and Electrical
Technology
General Civils, Drainage and Geotechnical
Landscape and Ecology
Structures, Structural Services and Expansion Joints
The procurement is taking place under a 'restricted procedure'. The notice states that Highways England 'reserves the right to use a reverse auction'.
Invitations to tender or to participate are expected to be sent to selected candidates on 4 March.