Highways England plans to launch a £32m tender for stopped vehicle detection (SVD) systems this April, as part of its programme of safety improvements to smart motorways.
The procurement process will be broken up into two similar lots, with one focused on immediate production of up to 800 units and the other focused on short to medium-term supply.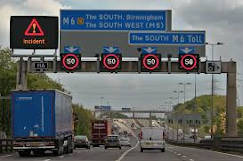 Under the Government's smart motorway action plan – announced in the wake of several fatalities and significant public safety concerns around smart motorways – Highways England committed to speeding up the roll-out of SVD.
'A radar-based system which spots stationary vehicles will be installed across the entire smart motorway network within 36 months,' the Department for Transport pledged earlier this month.
However, Highways England chief executive Jim O'Sullivan told MPs last year that it would not be an easy task.
'Refitting it and productionising it so that you can roll it out over hundreds of miles as a retrofit programme is quite a challenge,' he said.
In a recently published prior information notice, (PIN) Highways England announced it needs to procure technology to detect individual stopped vehicles in live lanes on 'Smart Motorway All Lane Running sections' of the network.
'The SVD solution must enable early intervention and the setting of road signals that notify road users of the presence of the stopped vehicle,' Highways England said.
Currently, it takes 17 minutes on average for traffic officer patrols to attend a stopped vehicle in a smart motorway live lane of traffic. Highways England hopes to reduce this to 10 minutes.
Lot 1 will cover the provision and commissioning of a radar solution 'to facilitate immediate roll-out, estimated to be 300-800 units with an estimated value of £7m to £16m'.
The contractor will be asked:
to provide a Stopped Vehicle Detection (SVD) radar solution;
roadside installation will be undertaken by third parties but the supplier will be required to commission the radar solution and may be required to support installation;
detection technology and a supporting system which provide operators in Regional Operational Centres with stopped vehicle alerts, enabling action to be taken to intervene;
the solution will need to be capable of detecting any vehicle permitted to use motorways
As a sign of the difficult timetable that Highways England is operating to, the supplier would need to ensure arrangements for the production of units are in place 'immediately following framework award'.
The indicative date for OJEU contract notice is 20 April 2020, and Lot 1 is due to be awarded in the summer.
'Given the requirement for immediate production, the solution must have already been successfully tested on the SRN,' Highways England said.
Lot 2 is worth the same amount and has a similar remit, but will cover the 'short/medium term requirements for provision and commissioning of a radar and/or other technology solutions on the SRN'.
'For radar and/or other technology solutions which have not already been tested on the SRN, Highways England will facilitate testing of the solution on the SRN following framework award, and it is intended to be a condition of participation in any mini-competition that the solution will have been successfully tested on the SRN.'
The framework award for Lot 2 will take place in the summer or autumn this year and is for multiple suppliers.
Owing to some of the perceived limitations of radar technology for SVD, particularly at times of high traffic flow, Highways England has been investigating other technologies that analyse CCTV images.
It is due to launch a large-scale trial of this technology 'providing another option alongside current radar technology'. However, this was not mentioned in the PIN.