Highway authorities have demonstrated excellent resilience in the face of extreme weather events and disasters. However local leaders are at risk of being undermined by a lack of wider support networks including training, IT and data sharing, a major new Government report has found.
Commissioned by the Department for Transport (DfT) and Local Government Technical Advisers Group (LGTAG), the independent report by resilience expert Dr Hugh Deeming identified the lessons learned by the highway sector from extreme-weather emergencies across 2015-2020, including storms Desmond, Eva and Frank.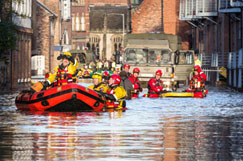 Among the key observations was a 'significant lack of capability' in the Government's preferred IT platform for sharing emergency management related information - Resilience Direct (RD).
Dr Deeming also found that the current RD system 'is not yet able to support key additional GIS map layers which identify a number of highways critical information streams, e.g., known-vulnerable structures (and information related to their intervention trigger points), assets containing multiple utilities infrastructures, live traffic data'.
On top of this, while highway authorities have access to key data sets vital to facilitating multiagency shared situational awareness during incidents: 'these data are not amenable for integration into the government's ResilienceDirect IT system'.
The report states 'that Local Highway Authorities need to either: 1) work with the Cabinet Office to suitably increase the capability of the RD platform, or 2) continue to develop other contingencies for dynamically sharing their information with partners'.
Speaking to Highways, Dr Deeming suggested many authorities, particularly in Wales, had moved away from the system: 'There is a great acceptance of the value of using alternative platforms.'
The report stresses the need for highways authorities to actively collaborate 'in the development of Multi-Agency Information Cells (MAIC) with their Local Resilience Forum partners'.
'As 'lifeline' infrastructure, highways provide vital communication links for the travelling public, as well as hosting other lifeline networks (gas, fibre) and connecting other critical infrastructure systems,' the report notes.
'Accordingly, improving data capture, data sharing and analysis processes will enhance risk-based decision making by providing opportunities to proactively avert failure of key assets (e.g., bridges, retaining walls) during major incidents.'
It adds that 'the lack of a systematic Rapid Impact Assessment (RIA) process in the sector also leads to inconsistencies in authorities' ability to apply risk-based approaches to the management of impacts to highway assets when the worst does happen'.
Dr Deeming revealed to Highways that his research also suggests local authorities do not always have the data to properly plan for resilience. In some cases, authorities raised concerns about a lack of knowledge of critical weak points in their networks, where assets carry national significant infrastructure, which could lead to a cascade of failures.
Another key point raised by the report was 'the importance of a comprehensive communications strategy that includes the role of social media in crisis communications'.
'The importance of a social-media strategy, which allowed network-related information to be drawn (pulled) from the public as well as broadcast (pushed) to the public was considered as essential (i.e., a must have) by the local authorities interviewed.'
Dr Deeming said: 'Local authorities have communications plans and they are using them successfully. The issue is whether the plan matches effectively with MAICs. The concern is that there is not really guidance on channelling the social media - which can provide useful situational awareness - into a collective data pool where it can be sifted for value, shared and used in high level decision making.'
The report notes that to buttress their MAIC capability in relation to social media, some highway authorities are also moving towards a Virtual Operations Support Team (VOST) capability.
VOSTs can be activated to perform specific functions in support of affected areas, which include
Gathering and providing real time information to the public
Distributing key safety messages during a major incident or emergency
Countering misinformation
Providing better situational awareness for incident commanders by gathering geo data, text, pictures, video, or a combination of these media from the public
The Dumfries and Galloway Local Resilience Partnership was highlighted as a leading proponent of the concept. It has now integrated VOST (@DGVOST) as an essential component of the D&G MAIC process.
Cumbria was also flagged up as an example of strong local leadership and excellent resilience - demonstrating an ability 'to balance between the need to respond, to transition to recovery, and then to bounce back to response again days later, whilst maintaining those recovery efforts.'
'Cumbria's Infrastructure Recovery programme (IRP) was used to illustrate one innovative recovery collaboration, which was in this case managed through the NEC3 framework. The IRP's progressive use of different NEC3 funding options, its creation of a highly capable management and delivery team based on trust and relationships with key contractors and its insistence on the use of local subcontractors, makes it clearly recognisable as an example of good practice.'
A focus on training, empowering local officers and achieving resilience in the sector by facilitating the development a broad cadre of Suitably Qualified, Experienced and Empowered Personnel (SQEEP) at all tiers of management runs through the report.
These efforts would build on a strong foundation, as the review found clear evidence of authorities within the highways sector 'that have coped well under the intense and sustained pressures placed on them by a variety of extreme-weather hazards'.
The report gives examples of SQEEP at senior levels: 'In the midst of the 'Beast from the East' snowfalls in Devon in 2018, the duty Silver for Devon Highways was in the midst of managing significant disruption to the county's networks when he was approached by the Police and asked if assets could be assigned to 'rescue' off-duty staff snow-bound in a hotel.
'In a situation where the same local authority officer was making concurrent decisions to reopen snowblocked road links to isolated villages, the decision to refuse the Police request to divert assets toward the hotel seems obviously correct. However, the fact that the local authority officer was able to make that decision in the face of a direct request should not be discounted. It illustrated clear thinking and prioritisation on the officer's part, in contrast to that of the police.'
The report covered nine broad themes:
Multi-Agency Integrated Emergency Management (IEM)
The concept of stabilisation
Resilient Networks
The Strategic Road Network (SRN), local highways interface
Collaborative working, Mutual Aid and Military Aid
The role of Ministerial Groups: COBR, Lead Government Departments and the Ministerial Recovery Group (MRG)
Democratic institutions and community resilience
Business Continuity Management (BCM), training and exercising
Corporate memory and learning lessons
Filled with useful wider insights on the theory of resilience and examples of delivery in local situations, the report also makes insightful connections.
For example, it highlighted that Cumbria's experience of the storms was similar to Wiltshire's in the wake of the Novichok attack.
'Once the initial poisoning incident had been contained in Salisbury the recovery began, only for the next poisoning to occur in a different location, throwing the agencies back into response and containment mode. In effect, whilst the stimuli were different, the learning points identified were very similar.'