It is not often you get a combination of precision and flexibility. Jobling Purser, a firm that specialises in such bespoke innovations that literally and figuratively fill the gaps in the market, thinks it has cracked this particular formula with its Hornet heater and Armaphalt asphalt combination.
Unlike conventional asphalt methods, the 25kg bags of Jobling Purser Armaphalt on the back of the works truck won't go cold or have to be thrown out.
No asphalt plant charged a £1,000 just to open operations or demanded a minimum order rate, at something like £100 for a tonne of asphalt, so you could collect asphalt with a use by date measured in hours.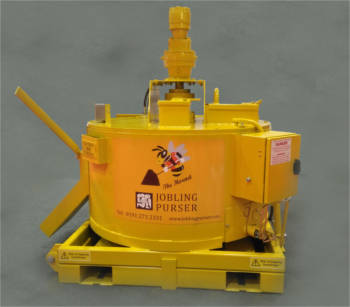 Any Armaphalt material is made compliant with any of the material grades available; HRA, SMA, 6mm, 10mm – you place the order, you call the shots.
You load the bags on the back of the truck, each fitting the specification for the exact works protocol, and you take them out to site. That is when you heat them up using the Jobling Purser Hornet machine. Like many things Jobling Purser offers, this is a canny in-house development, an award winning innovation on a theme with the details a closely guarded secret.
Hayden Davie, technical sales engineer at Jobling Purser, said: 'The Hornet machine is an indirect heating process. It's something we developed. No, I can't tell you how it works. We want to keep that secret.
'The problem of using direct heat is you are damaging and pre-ageing the materials. The Hornet machines have been trialled widely across Britain including in Wales,up and down the coast and in Scotland.
'With this process you have virtually zero waste and zero down time. The 25kg bags have all the ingredients in them no need to add any further products to the mix. Operatives go straight from your yard and using a Hornet machine heat the material to a hot mix of 150-180C. It takes 15 minutes to heat the material, which does not shrink or expand through the process. We have had some councils enquire about hiring the Hornet machine for 6-8 months.'
The Hornet is fully demountable and can go on the back of a wagon or trailer or any existing fleet the client may own.
It comes in three different sizes – a machine capable of handling up to 250kg batches of asphalt will weigh 750kg; a 500kg batch size weighs in at 900kg and a one tonne batch size machine weighs 1.1 tonnes itself.
The machine of course can be used for other heating jobs, perhaps reheating some of that would-be wasted asphalt, although Mr Davie tells Highways that caution is to be taken when re-heating asphalt as this can reduce the penetration rating by around 30%.
Although Jobling Purser suggests it has a solution to combat this problem as well, with the use of a range of different additives to help restore the bitumen to its original properties.
Mr Davie's background is as a senior materials technician for Northumberland CC's in-house testing, inspecting and consulting laboratory. One of the few in-house client laboratories left, it still operates in Cramlington and offers testing facilities for analysis of materials used in highway construction, civil engineering and general construction.
Mr Davie argues the widespread loss of the in-house client laboratory has not changed the sector much, suggesting the assurance is still there from the private sector. However it seems nice to see an intelligent client offfering its services.
He was brought in to Jobling Purser in part to make sure that the bagged materials performs in exactly the same way when heated as it would from an asphalt plant. So while there is a technical sales aspect to his job he is still involved in the testing and quality assurance side of the sector.
Armaphalt, which has been on the market for around five years and has been fine tuned in that time, and the Hornet heater are marketed for those cut and mend, right first time repairs.
The flexibility of having fully customisable bags of asphalt has proven useful for pothole repairs, utility companies and gangs working around ironworks such as manhole covers.
'If you lay two different materials against each other they will behaving completely differently and will work against each other. So the materials have the potential to fail quicker. So with Armaphalt you can customise the material to fit any surface using the same material for the repair as the existing surface increasing the longevity of the repair.'