Lincoln's £120m new bypass has passed its halfway point, according to the county council.
The 7.5km Lincoln Eastern Bypass, part of a plan for a ring road for the city, has been delayed and gone over its original budget as a result of a number of issues, including the collapse of Carillion, the original primary contractor on the project.
Cllr Richard Davies, Lincolnshire CC's executive member for highways, said: 'I'm incredibly pleased to say we're officially past the halfway point of construction of Lincoln's new bypass.
'Not only are two of eight new bridges built, but the road itself is really starting to take shape. 'And over the next six months, we'll have the new roundabouts at Lincoln Road and Sleaford Road finished, along with the new Heighington Road bridge (pictured) and Hawthorn Road footbridge.
'We're still on-track for having the road ready to open next spring.'
The council said that since the start of the project, over 200 people have worked over 600,000 hours on the scheme, nearly 1.4 million tonnes of soil and earth has been moved, over seven miles of drainage has been installed and over three miles of streetlight ducting, while 1,150 tonnes of steel and 14,000 tonnes of concrete have been used for bridges.
The council said the new road will improve Lincoln's infrastructure, encourage growth, minimise traffic congestion and enhance the inter-city environment.
Works started on site on 6 December 2016 when Network Rail began construction of a new railway bridge. According to the council's website, main construction works were due to begin in June 2017 but the council said in January 2018 that the commencement of soil-stripping, signified 'the start of main construction works'.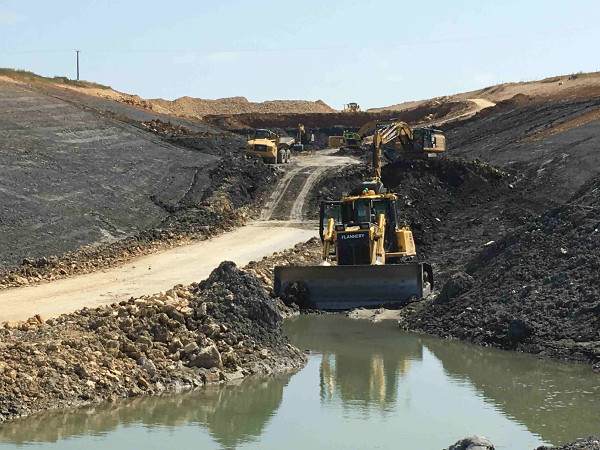 Later that month the council terminated its contract with Carillion but by Galliford Try took over an initial package of construction works in February 2018 and four months later was awarded the remainder of the works.
At that time, Cllr Davies said that the total cost of the project had risen from just under £100m to £120m, 'with about half the new costs coming as a result of changing contractor and the remainder from additional archaeological spend, additional land acquisition costs and inflation'.
The project will be funded by £50m of central government grant, £37m from Lincolnshire CC and £34m from developers, which will be forward-funded by the council.