The planning approval process for improvements to Junction 10 of the M25 has slipped again after ministers said they needed more time.
The Development Consent Order (DCO) examination was completed in July last year, having been extended by two months as a result of the impact of COVID-19.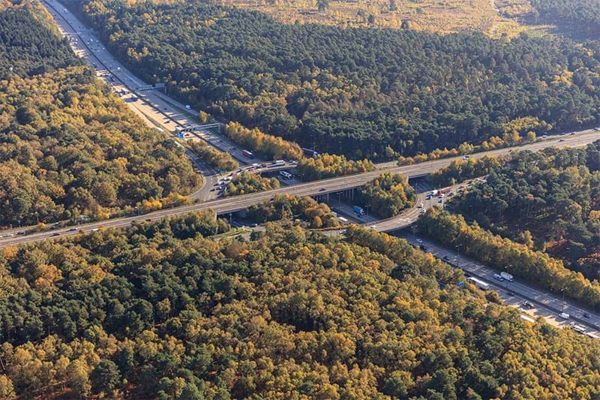 The A3 crosses the M25 at Junction 10 of the motorway, with two lanes in each direction
The Planning Inspectorate's report was passed to the Department for Transport (DfT) on 12 October. This meant that ministers had until Tuesday (12 January) to decide whether to accept the examining authority's recommendation.
However, in a written statement to Parliament, Andrew Stephenson, minister of state at the DfT, said the deadline had been extended to 12 May 'to enable the Secretary of State to consult further on the application including on the question of appropriate provision of replacement land to compensate for the proposed special category land to be compulsorily purchased under the development consent order'.
Highways England's proposals include building four new dedicated free-flowing slip lanes at the junction, where the A3 crosses the M25, allowing all left-turning traffic to pass through the junction unimpeded by traffic signals.
Carriageways on the existing roundabout are to be elongated and widened to increase capacity for right-turning traffic.
On the M25 the hard shoulders through the junction would be converted to running lanes with emergency refuge areas.
The A3 would be widened to four lanes in each direction between the Ockham Park junction and the Painshill junction, except where the A3 crosses over Junction 10, which will stay as two lanes in both directions.
Last year Highways England awarded a contract to Balfour Beatty Atkins to build the scheme and it has been working on the detailed design and doing more surveys to inform this.
The government-owned company has had trouble with planning applications for its major schemes recently. At the end of last year, it had to withdraw its DCO application for the Lower Thames Crossing after the Planning Inspectorate suggested that it would reject it.
The Planning Inspectorate also ruled against plans for a tunnel for the A303 at Stonehenge but was overruled by the transport secretary, who had also claimed more time to make that decision.