Materials testing is a part of the highways industry that arguably still isn't benefiting enough from technological advances. There are still technicians on site carrying out testing in hazardous situations, interacting with plant, hot material and road user site incursions.
Most records are collected on paper or, at best, by tablet computer and most results are referenced by chainage rather than GPS, limiting opportunities for inclusion of data into asset management systems.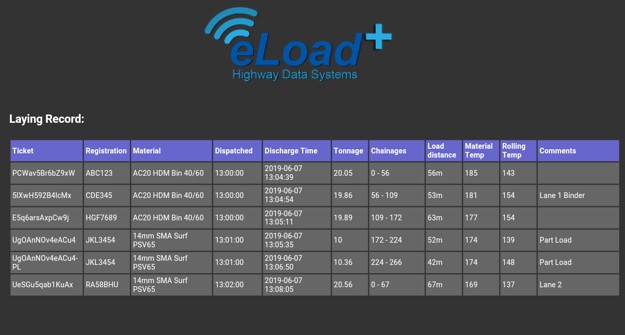 Highway Data Systems (HDS), the company behind the award-winning automated quality assurance (AQA) system, are addressing these issues through eLoad+.
How does it work? Building on eLoad.
eLoad is the ticket delivery system at the core of eLoad+. It takes a feed directly from the asphalt plant so that, as soon as a paper consignment note (commonly referred to as a ticket) is issued, the HDS server is also sent a digital copy. eLoad then sends this information to a tablet that is fixed to the back of a paver so that site operatives can see that material is on its way.
To indicate that a load of material has been unloaded, operatives click the corresponding vehicle registration number plate. This drops a GPS marker which can be used with chainages to create an accurate record of where material has been laid.
eLoad+ has further built-in tools that help operatives keep track of the amount of material dispatched and laid.
Eurovia trialled the eLoad+ system on the A414 in Hertfordshire as part of a package of measures they are exploring to digitise activities across their businesses.
Justin Willis, machine foreman, said: 'For me, eLoad+ allowed us to keep the paving machine laying at a constant speed knowing that further loads of asphalt were on their way but not yet on site. We had clear visibility of the batching plant despatch times using eLoad+ so we could get a real time picture of the whole works process and could plan our works to suit – very user friendly, as well as minimising waste on site.'
Beyond ticket delivery – eLoad+
HDS developed the eLoad system with functions around the ticket delivery system. While eLoad is a great tool for the management of ticket deliveries, laying records requires a greater amount of information.
In order to meet the additional need, eLoad+ has pages where laying record information can be entered. Each gang using the eLoad+ system is given a calibrated temperature probe and appropriate usage training. When operatives have indicated that a load has been discharged, eLoad+ requests a material delivery temperature, material rolling temperature, as well as start and end chainages for each load of material
Lane and layer can be clearly indicated as well as other comments and the information is immediately uploaded into the HDS server and recorded on the tablet as well for site reference:
This is a full standard laying record, which ensures accuracy and speed of reporting through using digital technology.
It also can remove the need to have a materials technician on site, exposed to potential hazards.
Toby Pyper, southern area director for Tarmac said: 'Tarmac is leading the way in the adoption of a range of digital tools and technologies which are driving efficiency and productivity.
'We're pleased to be working with our partners, Highway Data Systems, and our clients to develop a system that improves site safety by eliminating the risk of having technicians on surfacing sites. eLoad+ is a really innovative way of managing the materials asphalt compliance testing process and we are looking forward to progressing with it further.'
Measurements of surface macrotexture and surface regularity are improved through using HDS' laser survey systems.
Surveys are conducted at traffic speed within 3-5 days of laying operations, removing the need to have technicians conducting potentially hazardous testing with glass beads or the rolling straight edge.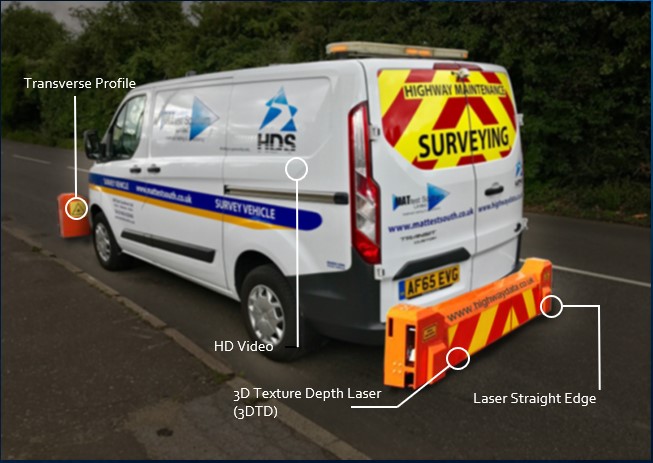 Commenting on the A414 trial for Eurovia, Paul Kidd, technical director for Eurovia Contracting, said: 'We are constantly striving to deliver innovative and sustainable ways of working. eLoad+ allowed our Foreman to plan and control resurfacing works in line with asphalt deliveries.
'The trial helped to minimise the number of stop/starts during the laying process, the number of unnecessary joints which improved the overall quality and rideability of the finished surface. This system provides real-time factual data and speeds up communication between asphalt plants and machine gangs. The real benefit was improved decision making on site, and more accurate and timely reporting for our clients.'