Work on a new junction to link a major new road to the M55 will ramp up later this month.
The £207m Preston Western Distributor (PWD), which will link the motorway to the A58, is the biggest new road programme in the Preston, South Ribble and Lancashire City Deal.
Costain is the main contractor on the 4km dual carriageway work, which is scheduled to open early in 2023.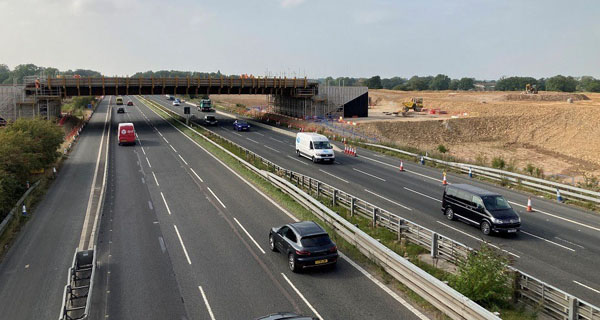 National Highways said work on the long-awaited 'missing' M55 Junction 2 has been going on since the PWD project started in October 2019, with the new junction bridge beams installed over the motorway in June.
A new, more intensive, phase of work along the motorway will start on Monday (18 October) with the installation of services to support new facilities such as gantries, CCTV and four new electronic messaging signs. This involves lane closures and occasional overnight and weekend carriageway closures over the next year or so.
Senior project manager Brian Smith said: 'The new motorway junction is a vital component of the PWD project and as well as supporting the local economy will help relieve congestion at other junctions along the motorway.'
Charlie Edwards, cabinet member for highways and transport at Lancashire County Council, said: 'This scheme also includes two new roads connecting to the current and future development of thousands of homes in the Northwest Preston Strategic Housing Site.
'These roads and the new motorway junction will create much needed additional capacity and help to reduce congestion and queuing on parts of the road network.'
The Preston Western Distributor partnership project is led by Lancashire CC but National Highways is contributing £25m from Designated Funds to support new jobs and new homes.
The new motorway junction will be formed from a 'dumbbell' arrangement with a bridge linked to a roundabout each side of the motorway serving the eastbound and westbound entry and exit slip roads.