Ordnance Survey has plans to create a detailed national database of road assets and street furniture including lampposts, manholes and traffic lights, which could help pave the way for autonomous vehicles.
The government-owned company has teamed up with Intel-owned computer vision firm Mobileye, to register assets using cameras in vehicles.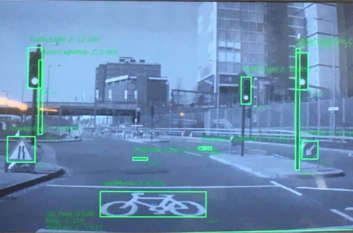 Trials have begun in London and Southampton and the results will be compared to 'ground truth data' from Ordnance Survey's army of more than 200 surveyors and its fleet of vehicles with their own cameras and lidar scanners.
Ordnance Survey is also carrying out a trial with Northumbrian Water to test its value to utilities companies, which it hopes will be a major market. The aim is to encourage utlities, delivery companies and others to have the cameras in their vehicles to gather data when driving.
Mobileye cameras in vehicles do not record complete images but effectively an asset list with GPS location stamps. This is then sent to the cloud to be in turn picked up by Ordnance Survey.
The report also registers relative positioning from one feature to another, which allows Ordnance Survey to use its own data and mapping systems to create a higher level of geographical location.
Using relative positioning with other features and the road curvature, Ordnance Survey can cross-coordinate with its map to create maps that are accurate to at least the cm.
And because the system does not use whole images, the camera devices on average only send 200mb a year - equivalent of 60 songs.
'You don't need to wait for 5G to send information back to the cloud. You can use this data to enhance maps and build maps. We are building maps for autonomous vehicles based on cameras just like this one,' a Mobileye spokesman said.
Mobileye also has a system to detect potholes although it can only identify them when they are directly in front of the vehicle. A more sophisticated system to map the whole carriageway for potholes is also in development and could contribute to predictive maintenance regimes.
Neil Ackroyd, interim CEO for Ordnance Survey, told Highways: 'At the moment we are focusing on the big utility customers who have thousands if not tens of thousands of vehicles. We are working with other organisations - bus companies, delivery companies.
'We have the utility challenge and we also have the road to door challenge - how do we make deliveries much more efficient and economically sustainable. If you start getting more information about mobility and shared data then maybe you could optimise deliveries and it could be that we get more effective use of our existing infrastructure.
'For decades the utilities have been using our digital data to reference their assets and in some cases those references are quite good and in some cases the records are not so good, and so their alignments – where they think the cable goes – are actually sometimes not correct.
'If we map all this data from above ground we can say the manhole covers are a good explanation of where the cable vertical access point is. So you suddenly find as we capture all those manhole covers we can say well we have evidence from manhole covers where the utilities are.
'It is a very efficient way of doing very detailed surveys. We have used ground penetrating radar and other sensor devices but while they are interesting technologies they are also quite expensive. What we are trying to find out is if you did have all that above surface data can you make better predictions of the records that the utilities have. And if you fuse their data with this new data and our existing data is there a sort of best fit answer that actually is better than the answer we have today.'
The geospatial industry supports some £26bn of the UK economy and OS revenue represents around 12% of the £1.1bn UK market for geospatial data, software and services, according to Ordnance Survey's annual report for 2017/18.