Both concrete and steel bridges are susceptible to corrosion from water and waterborne contaminants making waterproofing crucial. Jason Armstrong, product marketing manager for liquid waterproofing EMEA at GCP Applied Technologies outlines some of the key points to consider.
Views of the bridge
Aging infrastructure, combined with increasing traffic growth, put into question the long-term viability of many rail and road bridges. In Britain alone, 3,117 out of 74,005 council-maintained road bridges were found to be substandard. If you look at Europe as a whole, almost 70% of the continent's steel railway bridges are more than 50 years old and about 30% of them are more than 100 years old, with many are in dire need of repair.
Corrosion of reinforcement due to chloride-ion contamination in reinforced concrete structures is known to be one of the major causes for deterioration in highway bridges. Extremes in cold, heat and even humidity are a major factor in bridge construction and renovation — often throwing project schedules off course. Some bridge waterproofing membranes are extremely sensitive to moisture and have a limited temperature and humidity application window. This can leave work crews waiting around at the mercy of the weather, leading to lost productivity, delays to construction schedules and revenue loss.
Getting to the root of the problem
Increasing traffic levels, the increased size of today's vehicles as well as increases in carbon dioxide, sulphates, sulphuric acid and chloride ions from de-icing salts are all contributing to the deterioration of existing bridge infrastructure. Both refurbishment and new bridge projects must be designed with this in mind.
Steel bridges - These bridges are at risk of corrosion through oxidation from exposure to moisture and oxygen. A cycle of deterioration is triggered once the steel begins to rust and corrode, leading to loss of strength and integrity of the structure.
(Charles Bridge - Prague, Czech Republic)
Concrete bridges - Moisture and chloride exposure are the main causes of deterioration of concrete bridge decks. Over time, this ingress causes the steel reinforcement to corrode resulting in cracking and spalling of the concrete.
Concrete bridge deck deterioration is one of the most extensive bridge maintenance problems affecting the service life of bridges. The use of waterproofing membranes is one strategy to prevent moisture and chlorides from reaching the concrete by providing a barrier on the top of the concrete deck. The waterproofing membrane is then protected from the traffic by an asphalt overlay.
A forward thinking approach
With new structures come high expectations and pressure to achieve more than100-year service life and limit the need for frequent and disruptive repairs. To reduce the risk of deterioration, quality waterproofing should be considered at the early stages of the project. The bridge deck, waterproofing membrane and surfacing need to be considered together. Achieving the optimum combination extends the life and reduces maintenance cycles, future disruption and the overall project costs.
What to look for in a waterproofing membrane
The type of waterproofing membrane needed may vary depending on many factors. For bridge refurbishments, typically there is a focus on reducing future maintenance and on choosing a membrane that's quick to apply to reduce closure times. For new bridge construction projects, there is a focus on choosing a membrane that will offer long-term asset protection.
Key factors to consider when comparing waterproofing systems:
Longevity of the waterproofing membrane
Condition of the deck
Type and depth of proposed paving
Length of bridge closures and/or night possession
Phasing of works
Preventing costly overruns
Climate conditions and environmental challenges
Availability of reference sites for similar projects
Key questions to consider:
1. How quickly can the waterproofing membrane be applied?
Choosing a bridge waterproofing membrane that can be sprayed on fast and cures quickly is the first step. However, the real application time often comes down to what weather and temperature restrictions there are for applying the waterproofing system. Many liquid waterproofing systems are highly sensitive to moisture.
Unfortunately, this means applicators have to wait around for the right weather conditions before they can apply the waterproofing. This puts added pressure on bridge owners, who may face complaints from the public the longer construction or lane closures go on. Choosing a waterproofing system that is less moisture sensitive helps avoid these delays. This can also be highly beneficial for contractors, who are often rewarded or avoid penalisation based on completion time.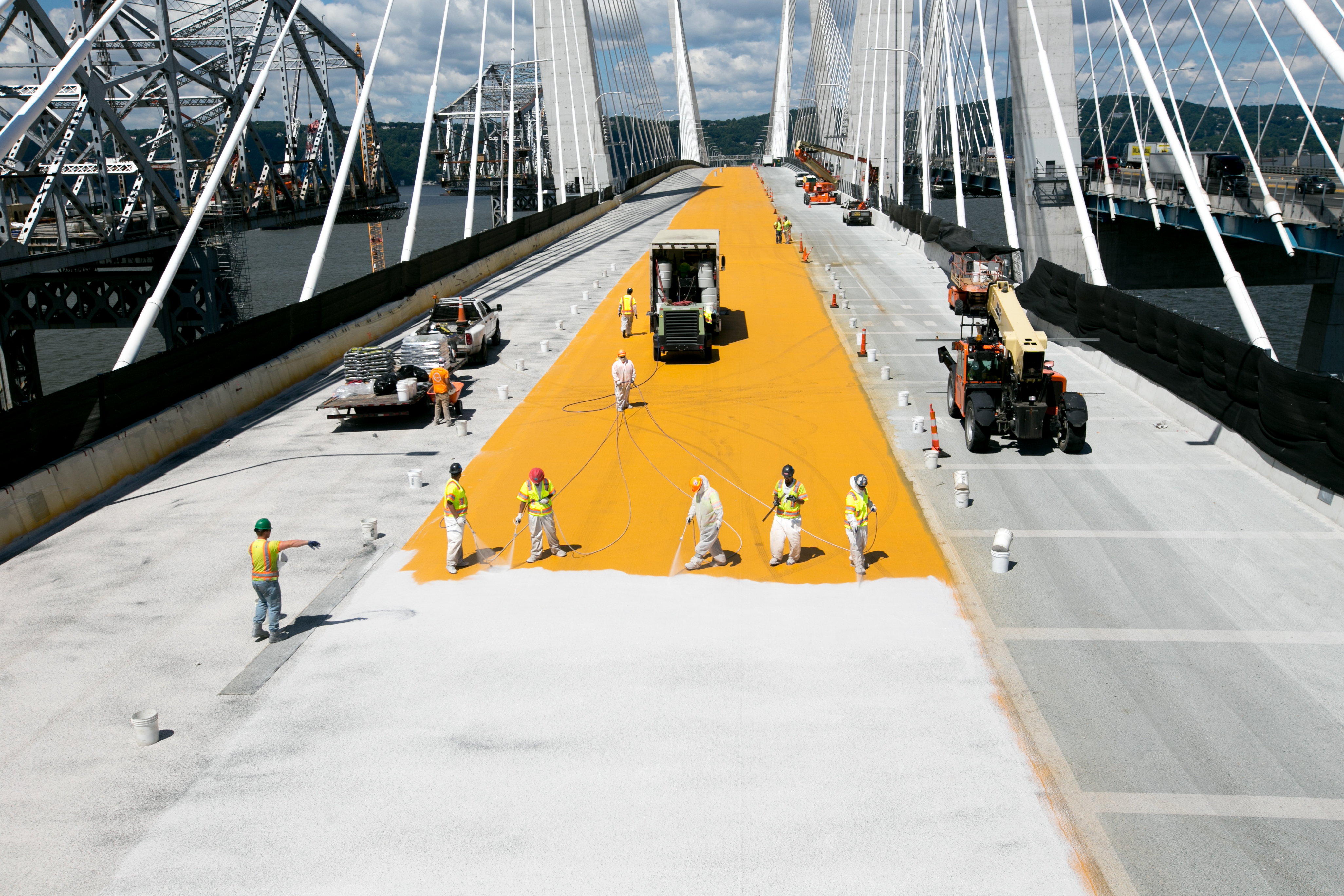 2. How do I ensure the waterproofing membrane is applied correctly?
Ask potential bridge deck waterproofing manufacturers if they have an approved contractor program and how their contractors are selected. Be sure to get references for projects that are similar to yours.
It's equally important to find out how and when quality control measures are taken. For example, spraying on the liquid waterproofing at the right thickness is essential to performance. Applying too thin a layer will compromise the physical performance of the membrane and applying too thick a layer may stress the bond of the paving.
It is important to ensure you have the appropriate film thickness, measurable at the time of application. A two-coat system makes it easy to spray at the correct thickness. Tensile adhesion test,- wet-film thickness tests, and electrical integrity testing are also performed throughout the application process.
3. How easy is it to repair the bridge deck waterproofing membrane?
It's best to choose a bridge deck waterproofing system that can be repaired on-the-spot if the membrane does get damaged. This helps keep the bridge construction on track.
4. How do you test the performance of your waterproofing system?
In many regions, there are independent organizations, such as the British Board of Agrément, the Ministry of Transportation in Quebec, UBAtc in Belgium and CEREMA in France, who validate the performance characteristics of bridge deck waterproofing systems.
5. Can you demonstrate that your bridge deck waterproofing membrane stands up over the years?
Ask manufacturers both for references from long-term bridge projects as well as accelerated age testing data to see how the membranes have performed over the ensuing decades since they were applied.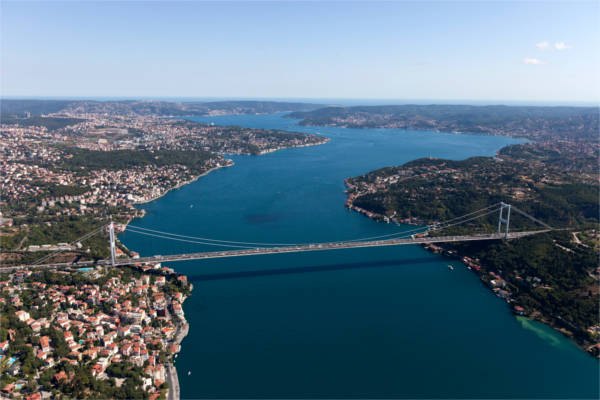 (Second Bosphorus Bridge in Istanbul)
PRODUCT IN PRACTICE
Built to last the test of time
Flooding as well as wear and tear from weather required the 650-year-old Charles Bridge in the Czech Republic to face a major renovation, including repairing the upper bridge section, replacing the old concrete deck, installing new waterproofing system, replacing stones in sills, adding new drainage and repairing the structure's pillars.
To extend the life of the bridge, the engineers on the project were keen to use an innovative and long-lasting solution for this work. GCP Applied Technologies' ELIMINATOR system was chosen due to its ability to provide a tough, durable membrane that would achieve the required bond strength. Based on its unique ESSELAC technology, the ELIMINATOR system can be applied in a wide range of temperatures and climatic conditions, which meant that installation of the waterproofing could be carried out throughout the year, a feature which the competing systems were unable to offer.
Europe's busiest bridges seek swift repair solution
The Second Bosphorus Bridge in Istanbul took a similar approach. Made up of two elegant, steel deck structures, the bridge joins Europe and Asia across the narrow straits of the Bosphorus while the Haliç Bridge carries the O-1 Highway over the Golden Horn Estuary. Between the pair they carry 330,000 vehicles per day, making them Europe's busiest road bridges.
To reduce traffic disruption during waterproofing and resurfacing of the bridge decks, the project team needed a waterproofing solution that was fast to apply, rapid curing, durable and tolerant of difficult site and climatic conditions. Based on their previous experience, KGM (the Turkish General Directorate of Highways) selected the ELIMINATOR bridge deck waterproofing membrane to protect the two bridges.
The ease of application of the cold, spray-applied ELIMINATOR system helped speed up the contract. The waterproofing system was rapidly applied using portable, simple-to-use airless spray equipment, and the liquid waterproofing solution fully cured in under an hour, at which point it could be trafficked.
The system enabled the 33,600m² deck of the Second Bosphorus Bridge and the 40,000m² deck of the Haliç Bridge to be completed 30 days ahead of schedule.