Following the SWARCO buyout of intelligent mobility company Dynniq, Dominic Browne speaks to Tony O'Brien, managing director of Dynniq UK & Ireland about the deal, what the future holds, and the company's new EPIC adventures.
Dynniq's shares were recently bought out by SWARCO. What is the story behind this sale and what does the future hold for your company?
In 2015, Imtech was acquired by the Dutch private equity fund Egeria and rebranded as Dynniq Mobility in 2016. Within Dynniq we are very open, and our business plan recognised the long-term ambition, which was to sell the business at some point. Therefore, establishing the right strategic buyer and at the right point in time was very important to our customers and our employees.
Our excellent operational and financial performance of the last four years naturally played an important role in terms of shareholder value. SWARCO and Dynniq's respective value propositions are very complimentary. Our customers and markets are similar however the way we serve them has been different. With this acquisition, we can accelerate our longer-term combined objectives and provide significant value for both our customers and employees.
Is Dynniq expected to continue to operate under its own brand or will it be merged within SWARCO?
We have already started to develop our joint integration plan, which will be implemented carefully to ensure that customers and employees remain at the centre of our strategy. In terms of brand, SWARCO has a stronger global reach and serves a lot more countries.
The intention is to fully integrate both companies and in the future we will eventually operate under a single entity and benefit from the SWARCO brand. This process will take some time to implement, as we will also retain our international product brand, Peek Traffic.
Our complementary value propositions mean we can better serve parts of the market, where Dynniq has historically not been strong. For example, SWARCO has a strong EV charging business, whereas Dynniq has a very strong UK & Ireland geographical field engineering services footprint.
We already purchase products directly from SWARCO such as variable message signs for our urban customers and have collaborated to integrate software into our urban traffic management control (UTMC) software platform for Derbyshire County Council's DHART project. In contrast to other markets, ITS is relatively niche and therefore international scale is important for our combined R&D roadmap.
You recently launched the EPIC concept (Engineer, Procure, Install, Commission) for ITS on motorways to help authorities by removing the risk of multiple suppliers. Can you tell us how and why this single-supplier market offer came about?
Historically many customers have taken a traditional 'category approach' to procure ITS technology, where Tier 1 contractors procure individual assets such as variable message signs directly from manufacturers. As we move towards a connected environment, where road users demand real-time information for increased road safety and sustainability, the integration of disparate road assets has become much more important for our strategic road networks.
By engaging early with our customers, we have identified that increases in technology also presents new challenges, such as system integration, which has been sometimes overlooked in the ITS market. In addition, the perceived merits of cost reduction within category procurement has ultimately been eroded by other issues such as project delays and other whole of life costs such as asset availability.
Dynniq has experience working on motorway ITS across Europe. Can you describe how the approaches differ across the nations you work in and any opportunities for the UK to learn from European colleagues?
As an international organisation, we are constantly learning from our colleagues on areas of best practice and innovation. Our new organisation expands this capability, where we not only share products but also human resources such as project management, system design, software development and manufacturing expertise.
Your system use algorithms to monitor weather and traffic conditions. How does this work and what other data factors do you utilise?
Our UTMC software platform integrates ITS sub-systems which include journey time monitoring, weather conditions and sophisticated optimisation algorithms which improve traffic flow. This follows our history of developing real-time adaptive traffic control systems such as Split Cycle Offset Optimisation Technique (SCOOT) and allows us to build on our unique domain knowledge. We can centralise sub-systems into a common database which is then distributed to different users based on the specific information they need.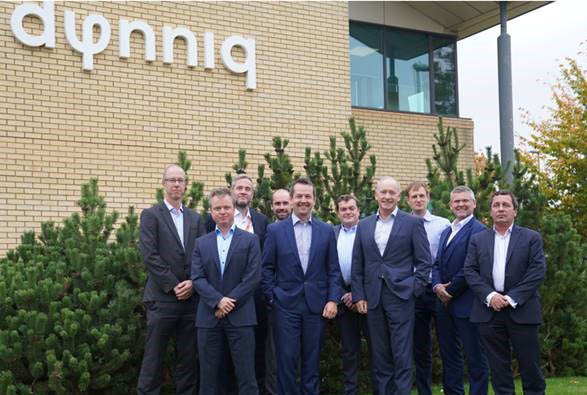 Our UTMC software platform is designed to encourage 'start up' technology innovators so that we can explore new applications for road user information. Our recent Green Light Optimisation and Speed Advisory for the City of York is a very good example of this innovation, where data from roadside assets is available for app developers to integrate into other 'on board' technology systems.
How does your EPIC concept help with monitoring and maintaining the assets themselves to make sure they stay live?
EPIC as a whole of life value proposition puts the onus on us as a single service provider to provide an end-to-end solution. Meaning not only the supply of CCTV, but also installation and end-to-end testing and then using a 24/7/365 customer service desk we can constantly monitor and optimise asset availability.
Does Dynniq's system support enforcement as well if people do not obey the VMS instructions?
Our driving enforcement technology which we developed in partnership with National Highways, monitors the data displayed on variable message signs such as speed advisory and 'Red X' lane closures. We can determine from our data analysis both vehicle speed information and potential violations. This improves driver safety; however the enforcement violations are outside the control of Dynniq.
What are the unique selling points of Dynniq's ITS solutions?
Being part of the SWARCO family allows us to engage early with our customers and develop bespoke solutions, addressing specific customer needs and then staying with our customers throughout the entire lifecycle stage from innovation, to design, development, deployment and then the maintenance of assets.
Can you give examples of where Dynniq has had major success with its EPIC solution?
As a relatively new proposition, we have secured 'proof points', the most notable from a UK perspective is Mersey Gateway. We have also delivered this type of solution in countries such as Ireland, Sweden and the Netherlands.
With proven success in delivering EPIC along with the recent acquisition by SWARCO, this will allow us to offer EPIC to a much larger geographical reach.
Pictured left to right: John Pickworth (MD Swarco Traffic Ltd, UK), Gunther Kofler (CAO SWARCO Group), Steve Dines (FD Dynniq UK&I), Lucas Kornacher (Head of Strategy SWARCO Group), Michael Schuch (COO SWARCO Group), Tom Southgate (Head of HR Dynniq UK&I), Tony O'Brien (MD Dynniq UK&I), Steffan Evans (CFO SWARCO UK & NE), John Betts (Operations Director, Dynniq UK&I), Jeremy Cowling (VP UK & NE SWARCO Group)