New analysis suggests National Highways would have missed a vital road safety target if traffic levels had not plummeted during the pandemic.
For the period 2015-2020, the Government-owned company (previously known as Highways England) was set a target to reduce the number of people killed or seriously injured (KSIs) on the strategic road network (SRN) by 40% in 2020 compared to the annual average for the period between 2005 and 2009.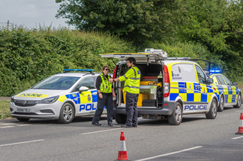 Official data published in September 2021 recorded 1,397 KSIs on the SRN in 2020, resulting in a 54% decrease compared to the 2005-2009 average of 3,017 annual KSIs, meaning that National Highways had officially exceeded its safety target.
However, in a recent blog post its monitor, the Office of Road and Rail, pointed out that lockdowns and restrictions in 2020 had resulted in a 25% reduction in the number of vehicles using the SRN from 96.8 billion vehicle miles (bvm) to 72.6 bvm.
Based on this, ORR calculated that during 2020 there were 19.2 people killed or seriously injured per bvm. This was an improvement on the casualty rate of 21.3 KSIs per bvm in 2019, which saw 2,060 KSIs on the SRN – above the trajectory needed to meet the target.
Direct comparison is difficult because of the difference in driving conditions. However, Highways has calculated that had traffic been at 2019 levels, the recorded casualty rate in 2020 would have resulted in 1,863 KSIs.
This would have been around 61.5% of the 2005-09 average of 3,017 KSIs, short of the target of a 40% reduction.
The ORR told Highways that it had calculated the rate of KSIs per billion vehicle miles in 2020 to take reduced traffic levels into account but that the calculation was not intended to be used to calculate counterfactual figures, which could be subject to a number of other variables.
It added that it would continue to scrutinise and report on actions that National Highways takes to improve safety in Roads Period 2 and beyond, including the target for a 50% reduction in KSIs by 2025 compared to 2005-09 and the trajectory for a zero-harm network by 2040.