The Road Safety Markings Association (RSMA) has called for stricter rules about driving licences in the construction industry.
The trade body voted at its recent AGM to lobby government to remove the current exemption that allows drivers of road marking (construction) vehicles to do so on a Category B licence.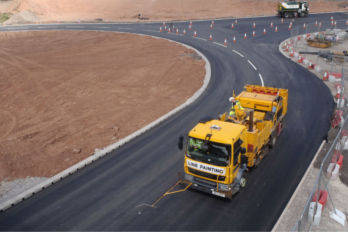 The RSMA want members to achieve LGV licences 'in line with its desire to increase standards and safety across the industry'.
Stu McInroy, CEO of the RSMA told Highways: 'Members have provided a clear mandate that the RSMA should engage with Government and seek the removal of the exemption that currently exists which allows drivers of road marking (construction) vehicles to be driven on a car licence.
'As we work towards this aim RSMA shall continue to support those members who voluntarily upskill their employees to Goods Vehicle licences and encourage those who do not, to follow this model.'
The motion was proposed by outgoing chairman Paul Aldridge on behalf of the executive committee.
Mr Aldridge, who is also WJ Group's sustainability director, said: 'As an industry, it is right we give up our exemption and write it into our rules of the RSMA that we train drivers up to LGV licence driving standard.
'And then we must go further and lobby government to remove the exemption, which is and unnecessary and questionable. Obviously this is going to take some time. It's not the kind of thing you can just snap your fingers for, but ultimately it will make the highways safer.'