Reinforced Earth has launched the world's first retaining wall of its type in roads to be awarded an Environmental Product Declaration (EPD) to ISO 15804+A2, providing a low carbon solution to retaining structures.
The T-Wall solution can be used across road and rail and is thought to be the first solution of its kind - with the new EPD for retaining structures providing a new set of rules for low carbon solutions on the road.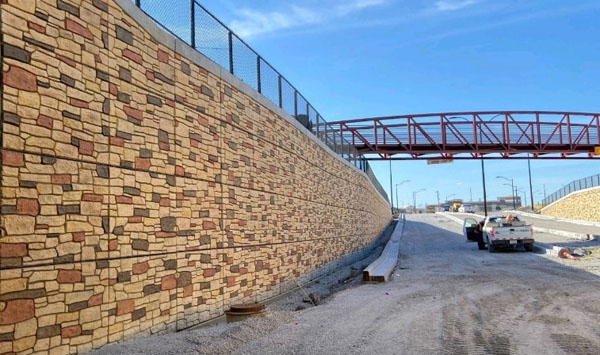 David Carson, business development manager at Reinforced Earth said: 'T-Wall's thin pre-cast sections can now demonstrate a low-carbon approach to any retaining structure and because it is a modular self-build system, installations of over 200m2 a day with a small crew are possible.
'With minimal ground improvement, less backfill and the use of site-won materials the whole life carbon is further enhanced on a 120-year design life structure.
'As it has continuous vertical slip joints and no mechanical connections, T-Wall can accommodate differential settlement, allow piling or utilities in the backfill and permit access for inspection. An ideal solution for roads on smart motorway widening, ramp walls, back-to-back structures, embankments, shored walls and abutments. T-Wall can be battered, built to heights of 25m and have any surface aesthetic.'
More than 800,000m2 of T-Wall has been installed globally.
Reinforced Earth is a civil engineering structural design company and supplier of materials for retaining walls, arches and related structures, and is thought to be the inventor of modern reinforced soil retaining walls.