If the SMART element of ADEPT's Live Labs project was an acronym, the first letter would stand for sensors.
The £23m government-funded programme published its End of Year One report this season, which gave an update on the work of eight Live Labs.
A graphic on page four of the document shows the types of suppliers involved, usually private sector partners to the projects. One type stands out with almost double the number of any other category: sensors.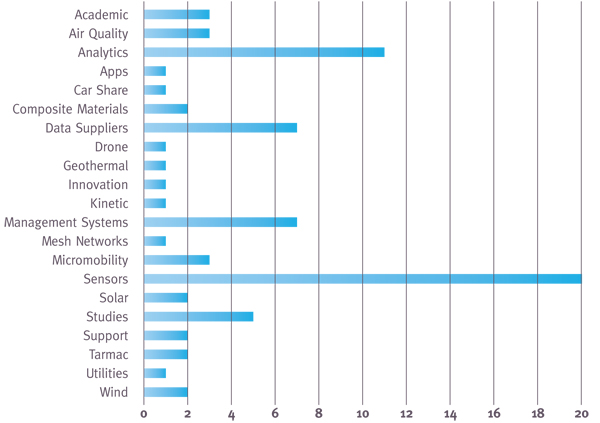 In reality, SMART means what it often comes to mean these days – doing technologically advanced things with data. Nevertheless, as the graphic shows, sensors are playing the lead role in providing the source material.
Buckinghamshire Council's Live Lab plans to use what it is calling illuminated data access points (iDAPS), installing SMART sensors on lighting columns and elsewhere that aim to give network managers better control and understanding of the county's network in real-time.
These sensors are being installed on existing LED columns, forming a mesh network in the Coldharbour ward in Aylesbury that connects to a central management system.
David Aimson, data and digital delivery manager, tells Highways: 'The mesh network is going to consist of about two and a half thousand sensors. And these sensor packs can monitor various different things like traffic movement, ground temperature, air temperature, noise pollution, and blue tooth sensors.'
Regarding noise sensors, he says: 'With those, we could do interesting things, like if an algorithm detects a crime being committed, it could turn the lights on brighter in that section, or you can link it in with the police and flag that there is something happening in that area.
'As to the algorithm and what we would be using it for, we don't really know yet. We're not at the stage where we are building our use case scenarios but these are some of the things we could do with it.'
The mesh network, combined with a wearable device (a sort of smart watch) and home sensors, could also complement existing care packages for vulnerable adults.
Mr Aimson says: 'An elderly person can have fall prevention, so if there is a fall happening, we would get a note of that, coupled with the sensors in the house.
'Someone with Alzheimer's, if they've got a wearable on; we can track [their movement] on the mesh network so the loved ones and social workers will be able to build a picture of what they are doing and hopefully it will give them some of their independence back, which is really what we are looking to do.'
The external sensors link to the CMS that runs LED lighting.
'With the motion sensors, people could walk under the lights and they could switch on and off, or we could have them on outside old people's homes or high crime areas. It gives far greater control, and that's all being controlled by the CMS system, which is Alloy, which has been used quite widely in local authorities before, but we are doing some bespoke work on it.'
Joining the dots – and dashes
Buckinghamshire's network of about 2,500 sensors uses data concentrators.
Mr Aimson says: 'They have the weather packs on them. We can connect them either to a nearby router – a cabinet – or a mobile device, SIM card device, which will upload to the cloud.'
For the most part, the sensors are plug-in devices: 'Any typical new LED luminaire will have a four or a seven pin NEMA socket. So these are just bolt-on packs. Because we have a heritage area within that ward, we are having to build some of the sensor packs into the finial of a heritage lantern so it meets heritage expectations.'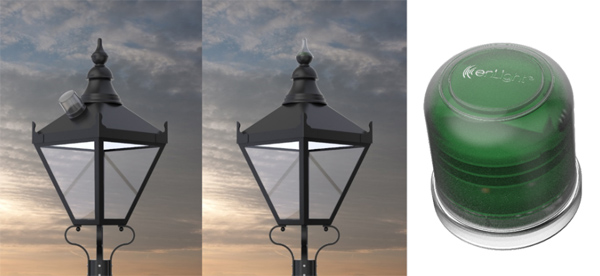 The enTalk DolFinial and Aurca smart cities solutions feature in the Buckinghamshire trial
Suffolk County Council's Live Lab – alliteratively called 'A Smarter Suffolk' – also aims to use its street lighting infrastructure to provide a showcase of innovative technologies. It has capitalised on the council's roll-out with neighbour Norfolk CC of a low-power wide-area network (LoRaWAN).
This has allowed a variety of sensors, including air quality sensors, to be installed at the same time allowing a 'compare and contrast scenario of sensors'.
Richard Webster, asset manager street lighting and project director for the Live Labs project, tells Highways: 'There are different types of networks for LoRaWAN, so at the moment we are working with the team to make sure that the network we are getting can provide all the benefits that are associated with the sensors we are putting in.'
Like other Live Labs, Buckinghamshire is trialling gully sensors, Mr Aimson says: 'These are quite intelligent, they can link in with weather systems, as to when there is potentially going to be flood risk in that area, and then some of the more simple things, like when we need to clear the silt from the gullys.'
Mr Aimson explains that while the flood prediction technology being used in Buckinghamshire measures the throughput of water, 'it's not the gully sensor that's really forward thinking; it's more the front-end software'.
'The analytical software of a company we are working with, called SmartWater is what makes somewhat of a binary sensor quite interesting,' he says.
This is very much a recurring theme – linking up data to allow software to make predictions or provide a dashboard that gives network managers a visual take on what is going on in real-time.
The Suffolk project is trying to work out what type of sensors - in-ground sensors, contactless, infra-red – will best inform its winter service decision-making.
Mr Webster says: 'The idea is that we are going to run all the sensors this year alongside the current decision-making process and at the end of the season we can compare and see what would we have done differently, what would the savings have been and also how can this type of data be used to inform our decisions.
'We are working with Meteo Group to see how we can ingest that data onto their dashboard. One of the important things throughout the whole of our project is that all these different sensors seem to have their own dashboard.
'As officers we don't have the time to go to every single dashboard to look at what each sensor is doing. So an important point of the project is working with BT, as one of our key partners, they have designed and developed a single dashboard and they are going to address all the different sensors, all the data, in one place. And that is obviously a key component of what we're doing.'
Kent County Council's Live Lab is a Highway Asset Data-led Management System (HADMS), and aims to integrate data from a range of sources, including sensors, to make managing highways assets more effective and efficient.
In one strand of the project, four gully sensor manufacturers – Amey, Kaarbontech, UK Flood Defence Alliance and Map16 – have been pitted against each other in side-by-side trials. The council is also using Kaarbontech software in a separate trial.
The trial is looking at both flow and silt levels. It originally involved four sensors in the same gully.
Carol Valentine, the council's highways project manager for Live Labs, tells Highways: 'When we do the side by side analysis, it allows us to do a direct supplier comparison. We are doing ongoing data analysis of what comes from those, which will help us to plan the best way to use them going forward.
One of the sensors hasn't worked out but three remain. Ms Valentine points out: 'A lot of these [like the gully sensors] are proof of concept, because we need to think about where we would use them and what kind of data they are giving us back.
'And if we do find it successful for one of the use cases, it's where would we put them. We've got over 200,000 gullies in Kent, and we're not going to put a sensor in every gully. We'll be looking at the areas we'd like to use them – maybe high speed roads, where it's difficult to go and physically inspect gullies. [Or] is it roads that are prone to flooding so we can get an early indication? There may be a case for both, dependent on the outcome of the trials. '
Changing the game
Staffordshire County Council is using air quality sensors to monitor the impact of some of its interventions on and off its highway network through a live dashboard.
Louise Clayton, transport operations and future connectivity manager, as well as project lead for the Staffordshire Live Lab, tells Highways: 'It's the level of data that's readily available and the types of pollution that it captures. We have a live dashboard platform provided to us by EarthSense, which allows me to select any of the locations that we've deployed in.
'It allows me to select the pollutant that I want to measure, NoX or particulate matter, and it brings up the latest measurements and it's really quite helpful to understand at a snapshot in time what's happening. It also tracks historical trends so we can analyse different time and weather periods. '
Although the Suffolk project is trying to use high buildings for connectivity purposes, it is trying to keep sensors such as air quality sensors as low as possible.
Mr Webster explains: 'We've got quite a novel approach. If you look at air quality, for example, in the past I'm aware that we used to use diffusion tubes, which were mounted on the columns. We're now looking to have air quality monitors fitted to the columns, but we're going to link that into other sensors.
'So for example, when we do adaptive lighting, that's also counting vehicles and classifying vehicles so we can then start to draw that data into the air quality [data] so get some insights based on road use. So if the air quality is poor at a particular time of day, is that because there is still traffic? Is that because there were lots of heavy goods vehicles?
'We are also putting air quality monitors at what we call pram height. [We want to] start correlating between higher up air quality and lower down air quality monitors.
'We are also looking to use anemometers, measuring wind speed and wind direction, and take that data into account as well so looking at air quality and building up a holistic picture of it.'
Two of the interventions in the Staffordshire project that are aimed at improving air quality are a 'green wall' and a moss wall.
Another intervention aims to reduce stationary vehicles, particularly HGVs, using distributed acoustic sensing (DAS) – vibrations on a fibre cable – to detect traffic and feed into the controls for the traffic signals at Cellarhead junction near Stoke.
The technology is provided by Fotech, which featured, along with the Cellarhead project, in the October issue of Highways.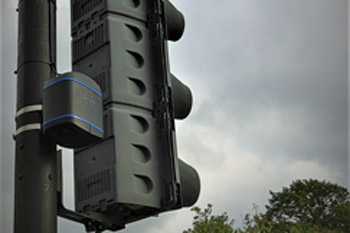 The Reading/Thames Valley Berkshire Live Labs project is also using air quality sensors. In the autumn, Siemens Mobility announced that it had successfully installed the first six EarthSense ZephyrS sensors in the area.
The project will see smart communication devices integrated with established infrastructure to provide a multi-modal view of real-time traffic movement, including air quality data from the new sensors, which will measure a range of pollutants, as well as temperature and humidity, in real-time.
Data from the sensors will be fed back to the EarthSense MyAir data web app and Siemens' Stratos traffic management applications to help create a public health exposure model around highways and transport.
Live Labs programme director Giles Perkins says: 'Understanding traffic impacts on air quality helps achieve improved quality of life in local communities and this technology will help the acceleration of this technology.'
Ground level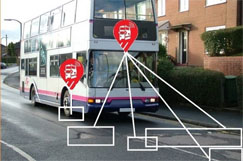 Kent's efforts to make its highway asset management more effective and efficient include using sensors for optimisation (for example gritter scheduling), modelling (e.g. risk profiling for roads) and prediction of issues such as pavement defects.
One trial combines vehicle-mounted cameras and sensors to spot potholes and other carriageway defects. The trial is a collaboration with Amey, Arriva buses and Route Reports, a company that provides live and predictive analytics for the road and rail industries.
It has seen devices fitted to a range of council vans and Arriva buses, which travel across the county collecting imagery and detailed data on the condition of the network.
The sensors, which detect vibration, have been fitted to both buses and council vans for comparison purposes, with 20 devices installed to date.
The Berkshire project is also installing camera-based sensors on refuse vehicles to detect potholes. Specialist sub-contractors are being appointed to provide innovation around pothole identification and prediction.