The Second Severn Crossing is to be renamed The Prince of Wales Bridge at a ceremony later this year.
Prince Charles opened the crossing in 1996 and its renaming will mark his 70th birthday year and the 60th anniversary of the Queen 'creating' him the Prince of Wales.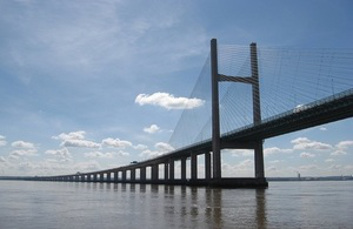 Welsh secretary Alun Cairns said: 'I'm delighted to announce that - with the agreement of the prime minister and Her Majesty the Queen - the Second Severn Crossing will be renamed the Prince of Wales Bridge.
'The announcement is a fitting tribute to His Royal Highness in a year that sees him mark 60 years as The Prince of Wales and decades of continued, dedicated service to our nation.'
'Renaming one of the most iconic landmarks in Wales is a fitting way to formally recognise his commitment and dedication to Wales and the UK as the Prince of Wales.
'We look forward to marking the occasion at a special event later this year when the new Prince of Wales Bridge and its sister bridge will be seen as positive symbols of a newly invigorated economic and social partnership between south Wales and south west England, and the strength of the United Kingdom.'
The announcement comes in the year that the tolls to use the Severn Crossings will be abolished, a move that the Department for Transport said would give the South Wales economy a boost of around £100m a year, 'drive the biggest economic stimulus Wales has seen in decades and create the most natural economic growth corridor spanning Cardiff through Newport to Bristol'.