A £164m all lane running scheme on one of the country's busiest stretches of motorway is now fully open.
The hard shoulder of the M23 has been converted to a new fourth traffic lane in each direction between Junction 8 (the M25 interchange) and Junction 10 (Gatwick Airport).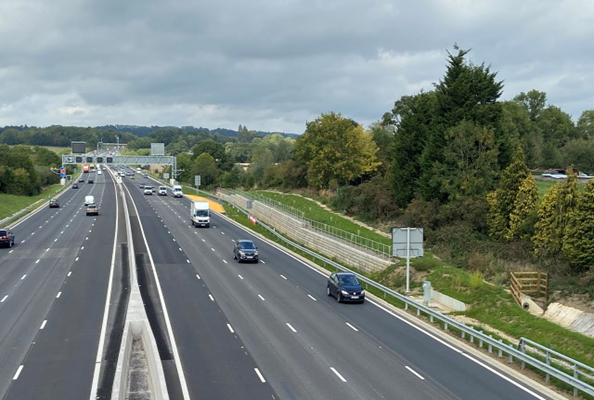 Highways England said the technology on the 11-mile section has been undergoing a period of testing and commissioning over the last few months.
The scheme was in construction last year when transport secretary Grant Shapps announced a review of smart motorways following increasing public concern about safety, particularly the risk of breakdowns in live lanes.
Highways England said the scheme is in full compliance with the stocktake's recommendations. However, a commitment in the stocktake for the maximum spacing of emergency refuge areas (ERAs, pictured) to be reduced from 1.5 miles to three quarters of a mile only applied to future schemes and 'where feasible', meaning that the M23 scheme has opened with the old specification
In addition, it does not have the radar-based stopped vehicle detection (SVD) system that the Government has pledged to install across the smart motorway network by March 2023.
Highways England told Highways that the new scheme uses radar to detect queuing traffic and automatically change the speed limits to manage the flow of traffic.
However, whether radar-based or otherwise, the Motorway Incident Detection and Automatic Signalling (MIDAS) system that is used across the smart motorway network is likely to raise alerts once the main danger has passed or a collision has already occurred.
Highways England added that it has installed 10 super-span portal gantries, 16 cantilever gantries with signalling equipment, six cantilever signing gantries between junctions 8 and 10, fitted with technology including traffic sensors, CCTV systems and variable signage.
In addition, extra patrols of traffic officers will be in place and control room operators will be able to reduce the speed limit to 40mph and display warning messages Red X lane closure signs during incidents.
Mike Grant, Highways England's South-East delivery director, said: 'This new stretch of smart motorway will tackle congestion on the hugely busy stretch around Gatwick Airport and will improve journey times for the 180,000 drivers who use it every day.
'Smart motorways add vital extra capacity, improve journey times and maintain high levels of safety. Drivers will also see better information about conditions on the road ahead and enjoy smoother journeys.'