The Department for Transport's (DfT) long-awaited Street Manager database went live from the beginning of this month with a method of identifying specific locations at its heart. Chris Ames takes a look at the many uses of the Unique Street Reference Number (USRN).
In April 2020, the Government announced that the USRN and its cousin, the Unique Property Reference Number (UPRN), would become open data under an Open Government Licence and would be mandated for use across the public sector from July.
The Cabinet Office has compared USRNs and UPRNs to the national insurance number held by every adult or a vehicle's number plate, describing them as 'the golden thread of the UK's world-leading addressing system'.
The Government Digital Service has mandated that the USRN and UPRN will now be the public sector standard for referencing and sharing street and property information.
The aim of Street Manager is to improve collaboration, increase the efficiency of streetworks, and reduce risk and disruption. At the heart of this system is the National Street Gazetteer (NSG) which is the authoritative dataset of streets within England and Wales and the authoritative source for USRNs.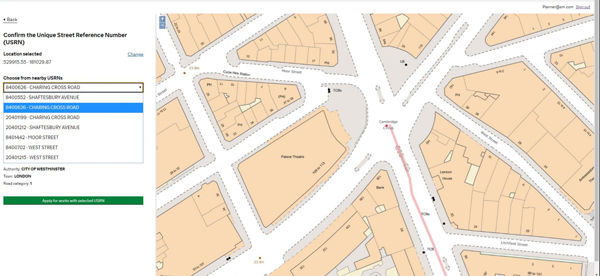 The NSG is managed by GeoPlace LLP – a public sector limited liability partnership between the Local Government Association and Ordnance Survey – and is regularly updated by all highway authorities in the two countries.
It also includes Additional Street Data, such as structures, maintenance responsibility, road construction information and a catalogue of other features provided by local authorities to help the co-ordination of streetworks.
Street Manager users will be able to search for streets where they intend to carry out works. The results will reveal information about streets that are traffic sensitive, or have engineering difficulties and roads with special surfaces – all of which are noted against the USRN – which should help them better plan and co-ordinate their activities.
As time goes on, Street Manager aims to provide a consistent view of what has happened to the network, how, where, and when.
Paul Chandler, Street Manager product manager at the DfT, says: 'The USRN is vital to us in every aspect of Street Manager. It's what we use to raise every set of works and write every report – without it, we would be taking a guess with postcodes or wasting time, scrolling around a map.'
GeoPlace managing director Nick Chapallaz says: 'Street Manager should transform the management of street and road works, improve journeys for the public, and help businesses to make better plans that have a lower negative impact on productivity. GeoPlace is proud to be the custodian of data that enables this to happen.'
The organisation has another key role in supporting street and road works across Britain. On behalf of the DfT, it manages the Street Works Act codes allocated to organisations that have the right to carry out streetworks. It is not possible to conduct works without being allocated a code by GeoPlace.
Mr Chapallaz adds: 'For a long time, we've wanted to see USRNs used in every system that references a street address – we are confident there will be direct increases in efficiency, reductions in risk, and better outcomes for the people affected by any works, of any kind.'
GeoPlace says USRNs are already being used by organisations to facilitate seamless data linking, sharing and analysis between different organisations, including helping utility companies map underground assets and helping authorities manage their asset networks.
Conwy County Borough Council used USRNs to deliver a digital transformation project that brought three departments, including Highways and Infrastructure, under one banner.
Among other uses, USRNs were used to link together datasets to support mobile technology for highways inspections and works ordering, financial management of the road network, gully maintenance and street lighting.
Each street lighting asset was linked to the nearest USRN, providing instant geographic visualisation of the asset network.
Another service that GeoPlace runs on behalf of local authorities is FindMyStreet.co.uk, which shows every street in England and Wales that is held in the NSG. It will tell you where a street is, what its official name is, and the maintenance responsibility of that street.
Its purpose is to support local highway authorities in meeting their Highways Act Section 36 (6) obligation in providing a list of publicly maintainable streets to the public, reducing the burden on authorities to create this individually.
GeoPlace says that as well as helping users find every street in the NSG, FindMyStreet may also help councils find out any missing streets, supporting the Deregulation Act (2015) which protects Public Rights of Way from being extinguished.