Highways gets an exclusive briefing from Mark Stevens, assistant director, operational highways at Suffolk CC, on how a collaboration with Kier Infrastructure Services is re-defining the way a local authority can work with a service delivery partner to optimise performance and give value for money.
On 9 November 2017, the British Standards Institution (BSI) visited Suffolk Highways' headquarters in Ipswich to assess the alliance between Suffolk CC and Kier Infrastructure Services Ltd.
The BSI's assessor concluded that the partnership working warranted the award of ISO 44001, the Collaborative Business Relationship Management standard that few organisations had previously achieved.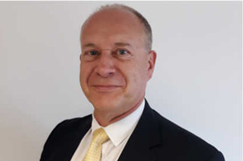 For Mark Stevens (pictured right), Suffolk Highways' assistant director since September 2015, this was a significant milestone.
'In October 2015, after two turbulent years, the council's scrutiny committee was close to suggesting that the highway services contract be torn up and Kier was seriously looking at how much of the contract had to be seen out.'
The contract had commenced in October 2013 and was due to run until September 2018 unless an extension was awarded – an outcome highly unlikely to occur at that point in time.
'The highways service benefited from a Highway Maintenance Efficiency Programme (HMEP) Strategic Peer Review in February 2015 with a staff survey that summer. Things had to change, but the transformation programme was never going to correct the failing "master-servant" relationship. Something more radical was needed and so I reflected on the work of the Future Highways Research Club (FHRC) to help identify a way forward,' says Mr Stevens.
In February 2014, the FHRC – previously sponsored by Kier – brought together the representatives of 12 local highway authorities including Suffolk, to work with Proving Services Ltd operating from Cranfield University, to identify a step-change in how highway services could be delivered. Its participants looked beyond the HMEP tools for more radical solutions and, after 26 iterations, finally settled on a 'route map' for future highways services. (See picture below)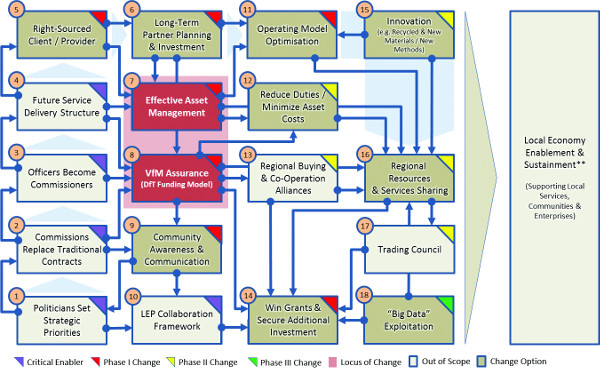 'The route map wasn't a perfect fit for every authority but definitely helped define the journey we should embark upon,' Mr Stevens recalls.
'Suffolk's administration wanted the contract to create "one team" that would integrate and optimise public and private sector thinking and practice. It wanted a value-for-money service to "maintain roads and deliver Suffolk's highway infrastructure". Employees from both organisations were desperate for a change – the blame culture was quite poisonous and the existing systems and processes strangled innovative thinking and practice. Finding volunteers to participate in properly transforming Suffolk Highways wasn't hard.'
A new highways transformation programme was launched in January 2016, tackling six themes.
The Contract Management Workstream dispensed with a punitive set of operational performance measures and established a new outcomes-focused performance management framework from April 2016 onwards.
Joint objectives, behaviours and values were defined, merging the separate traits of both organisations and creating the foundations for a more positive culture.
The Finance Workstream stopped more than 180 officers ordering works and ensured that there were only 23 commissioners within Suffolk Highways, with more streamlined processes and controls.
A large backlog of unresolved financial claims were systematically tackled through an immense amount of effort and pragmatism – after which Kier no longer felt that it was bankrolling part of the council's highways service.
The Programme Management Workstream had to bring better investment in the local road network and forward plan works – dispensing with the hitherto expensive, non-prioritised drip-feed.
The draft Well-managed Highway Infrastructure code of practice helped enable a radical overhaul of confusing and inconsistent application of timescales.
The council's new Highway Maintenance Operational Plan (HMOP) was unrecognisable from its predecessor when introduced in May 2016. Some highways inspectors suggested they had been waiting 20 years for such a change.
Mr Stevens says: 'We knew we had to correctly prioritise the work for our reactive maintenance resources. The previous insistence on having 25 two-man gangs racing in all directions round the county was madness.
'In February 2016, I suggested we only needed three such gangs to deal with urgent, make-safe operations and the remaining resource could work in a more productive way with better scheduling. We have made that happen and productivity continues to rise.'
The risk-based approach that was adopted prioritised the scale of the defect against the extent to which it would be encountered. Intervention criteria were defined for all forms of highway infrastructure defect with seven different timescale categories, rather than using the 'emergency', 'category 1' and 'category 2' distinctions in Well-maintained Highways.
Category 7 defects are those that are not quite at intervention level but get recorded for insurance purposes and help to create forward programmes of work. (see picture below)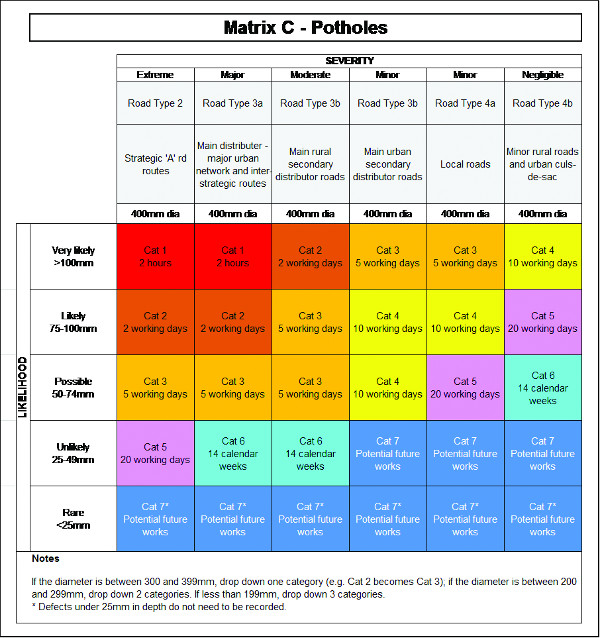 With the Asset Management Workstream, new highway infrastructure policy, strategy and plan documents were created and endorsed by the council's cabinet. New preventative maintenance works prioritisation processes were defined, the old area budgets were reconsolidated for county-wide and asset-led utilisation, and longer-term schedules of works were identified.
Annual programmes of work emerged and were shared on the re-branded Suffolk Highways webpages through the Communications Workstream, under which bi-monthly newsletters to all of Suffolk's councillors were also created and shared.
All forms of vehicle fleet received new livery and Suffolk Highways began to use social media to provide daily updates on roadworks, road closures, delays and gritting information.
Through the Integration Workstream, function-based, co-located teams increasingly replaced the area-based approach. Each time this happened there was improved performance, confidence and morale.
By October 2016, the administration was convinced the service was heading in the right direction and extended the contract to its full 10-year term, subject to ongoing performance.
'In February 2016, we came across the Infrastructure Client Group's Alliancing Code of Practice and used it to sense-check what we were doing. While we had its themes of behaviour, integration and leadership reasonably well covered, more commercial work was needed. We red, amber and green-rated our progress against the code's four-by-four grid, but we needed a value for money (VfM) assessment, so I asked Proving Services to come to Suffolk and apply the assessment factor set to do that.' (see picture below)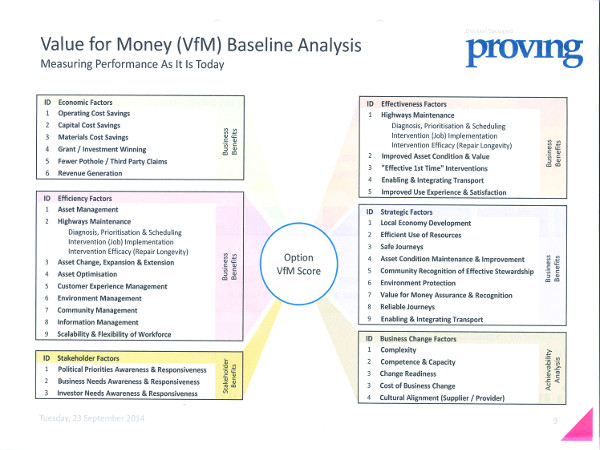 Over a two-day workshop in July 2017, Proving's VfM assessment tool clarified that the old transformation programme made negligible difference between mid-2014 and August 2015. Suffolk's historic scores were the worst-ranked of all 12 of the original FHRC members' scores.
Implementation of the new Highways Transformation Programme lifted Suffolk Highways into second place among the original scores. The workshop also identified four more activities that would potentially enable Suffolk Highways to achieve its new objective of achieving 'flagship status'.
'Mutuality Assurance means more fully exploring how to draw Kier and Suffolk more closely together through processes and agreements,' says Mr Stevens. 'Our hope is that we can use this to help re-define how any local authority can identify and successfully work with a new service delivery partner.
'Through the communication and community engagement theme, we want to change the perception of the service and create a mechanism for Suffolk's local communities to work legally and safely on the highway network. We're applying systems thinking to optimise our performance under the VfM theme.
'We are already working for Highways England and other local authorities under our commercialisation and revenue generation theme. This is beginning to help offset some of our overhead costs.' (See picture below)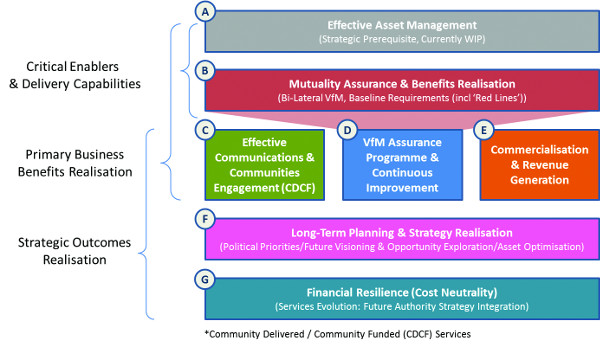 In September 2017, the old area highway offices closed and were replaced by three 'service delivery centres', primarily focused on optimising reactive maintenance-led activity with the Ipswich centre also managing preventative maintenance and strategic delivery.
Kier and Suffolk staff are now co-located and fully integrated into that aspired-for 'one team'. The FHRC re-launched in September 2017 with VfM scores being determined for new members with an updated assessment process.
Much of Suffolk Highways' July 2017 workshop has helped shape the FHRC's future work programme.
Mr Stevens says: 'We're looking forward to working with other local authorities in the FHRC. Working in collaboration has to be the way forward and we are embracing that opportunity.'