Duncan Elliott joined Galliford Try as managing director of the highways business unit within its infrastructure division in March. He had not looked for a new job in over 20 years until Carillion collapsed, taking his role as head of strategic highways with it. However, in Galliford Try he found a company that matches his principles and ambitions. In fact, in some ways, it feels like he is finally home.
Duncan Elliott and Galliford Try have a plan. It is designed to realise two simple but essential ambitions – to keep people alive and make the company and the industry more money. The solution does not rely on any new complex contractual structures or technological revolutions. The solution is the wood not the trees. The solution is people.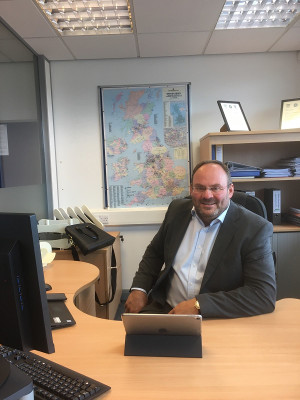 Mr Elliott makes his point with a simple, revealing anecdote. Years ago, a colleague of his was given the task of conducting the health and safety induction on a job.
'The project leader said: "You are the health and safety guy - you do the inductions". Decision made, move on. The issue was - this particular person, as nice as he was and as competent as he was, wasn't a good presenter. So, when you get 20 or 30 people in a room and you are trying to get a message to those people about specific health and safety issues on a job and you have someone who is not very good at presenting, those people walk out of the room and the point of the talk is missed all because of one person's lack of ability to speak in public.
'That is not the speaker's fault; it's the fault of the person who put them in that situation. If we had someone from retail or an educational background, the audience would sit there waiting for the next message.'
It is a good point well made, and of course the stakes could not be higher.
'This industry still kills people. It is unacceptable and we need to do something about it. It's 2018, for God's sake.' Galliford Try is in the process of transformation and is currently looking at its structure and reprofiling the roles that make up this structure. Mr Elliott is suitably impressed with what he has seen so far.
'Having joined Galliford Try, I can say we have an absolutely superb team of people here and it is an absolute pleasure from my point of view to be a part of that. From a business point of view, we have all the right ingredients to do what we need to do for the good of the sector and the industry.'
Mr Elliott contrasts Galliford Try with what he has seen elsewhere and says he has little time for what he describes as the sector's susceptibility to slip into lip service, or as he puts it: 'The façade, where senior people will say the right things, but nothing is done any differently.'
We meet in Mr Elliott's fairly nondescript offices in a business park in Morley near Leeds, but he has his eyes on the horizon of sector-wide change. Perhaps it is the 'Day One' (as executives preach these days) energy of someone in a new job, but he has the passion to convince you that the sector can change and the argument to say why it must.
He is a big man, barrel-chested, frank, endearing and with a happy, but wry, sense of humour – the kind of loveable giant you could imagine capable of tearing an old phone book in two, but also crying at a TV Christmas ad.
He is determined to start the fightback through bringing in new skills and new perspectives in order to develop 'flourishing people' and successful teams – a happy team being a safe one.
'Someone said to me we are employing technical people to do non-technical roles and when you think about this, it is so true. Half of the site agent's or site manager's role is technical, but half is not and yet we still recruit the same people.
And what that creates in the industry is a stagnant place. We still have the same roles, we're still making the same margins we were 25 years ago if we are lucky, and we are still killing people. We cannot have families not knowing if their loved ones are going to come home that night.
'This industry is not very good at changing itself and moving forward but it is very good at following. And my view is, if we can demonstrate that our model delivers the goods and the value that comes with it, then I think others will follow quite quickly and that will create change across the wider industry for the good.'
So how do you get a flourishing team?
'There are a number of factors, but for me, one of the big issues is the equality diversity and inclusion agenda. This industry and sector has not properly embraced that, but if we can nail it and we are on a journey as a business to do that, it will stimulate a team to flourish.
'We have looked at what people in the industry are doing at different levels. What you find is you get into this technical, non-technical space. It is not quite 50/50, but the trend is, the more junior the member of the team, the greater proportion of technical skill is associated with the task. That is not unusual. What surprised me was the actual detail when you start to analyse a role properly and literally list what people are doing on a day-to-day basis. It is so different to what I did when I was on tools 20 years ago.'
There are obviously some aspects of new technology that can help with this people-focused vision, but Mr Elliott argues there is plenty out there already that gives the industry enough to be getting on with it. Galliford Try has done research into virtual wall technology, he says.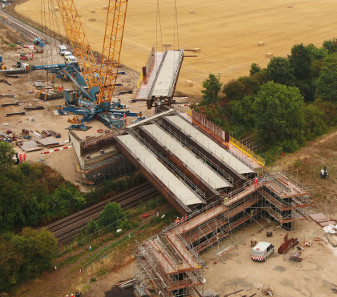 'If you take an average bit of kit, let's say a digger, you can put it in a virtual box. That box is made of virtual walls and you can enter data into the software in the machine and it prevents the machine going anywhere outside that box. This technology is out there now. Why can't we set a camera up and send a drone out? Something to remove people from harm. We are on that journey now.'
Mr Elliott previously headed up strategic highways with Carillion for nine years and before that spent 16 years in various roles with Alfred McAlpine, which Carillion acquired in 2008, up to and including operations director level.
The result is he spent most of his career quietly and successfully moving up the same ladder until he reached the top. Galliford Try feels like a new lease of life for him.
He doesn't dwell much on Carillion's failure. He gives an ironic laugh when it is suggested as being a sore spot. 'Despite the situation Carillion found itself in, we had a successful highways business within it,' he says.
If the failure of Carillion was a major blow, Mr Elliott has deservedly landed back in the thick of it. Galliford Try, as anyone who reads these pages will know, is winning work thick and fast. And, it is transforming itself at the same time.
Mr Elliott is clear however, that it will not be growth at any cost. 'We can grow this business, be safe, have happy customers and make money with a team of people that are flourishing. If growth compromises any of these we won't take on the extra work.'
As the conversation turns away from the here and now, Mr Elliott recalls his past playing for Orrell Rugby Club back when it was in the top flight and England internationals drank with him in the bar. He also reveals a surprising hobby as a horse-drawn carriage driver. In the beautiful countryside of Yorkshire he will hitch up the horses and ride out down the lanes between hedgerows and fields.
He describes the beauty of this pastime in an interesting way: 'You are at a height you are not used to, moving at a pace you are unaccustomed to and you see the world in a different way.'
This seems what he wishes for during his working week too – a different view that can create a new world.
Picture shows a bridge beam lift over the Lincoln to Market Rasen railway line on the Lincoln Eastern Bypass - Galliford Try's biggest on-site project