Highways England has shortlisted three 'international joint ventures' to go through to the next stage of the procurement process for the £1.7bn Stonehenge Tunnel, with only one British firm in the running.
The announcement follows confirmation of funding for the controversial project within the second Road Investment Strategy in the Budget earlier this month.
From next month, the three joint ventures will be invited to participate in dialogue with Highways England over a six-month period before submitting their final tenders.
They are:
BMJV, comprising Bouygues Travaux Publics SAS and J Murphy & Sons Ltd
HDJV, consisting of Hochtief Infrastructure GmbH and Dragados SA
MORE JV, comprising FCC Construcción SA, Salini Impregilo SPA and BeMo Tunnelling UK Ltd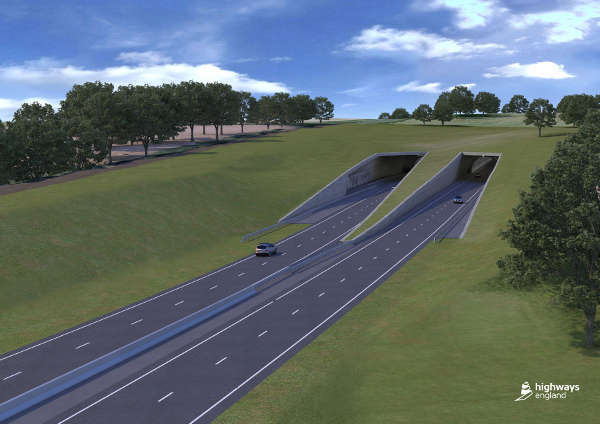 Project director Derek Parody said: 'We're looking forward to entering into a competitive procurement process with some of the world's most highly regarded construction companies, subject of course to planning consent being granted.
'They are all of the highest calibre, with a proven history of delivering complex infrastructure projects, and they are keen to be part of delivering this transformational project.
Highways England's proposed £1.7bn upgrade of the A303 between Amesbury and Berwick Down includes:
8 miles of 'free-flowing, high-quality dual carriageway'
a twin-bore tunnel 2 miles long underneath the World Heritage Site, closely following the existing A303 route
a new bypass to the north of the village of Winterbourne Stoke, with a viaduct over the River Till valley
new junctions with the A345 and A360 either side of the World Heritage Site
Following the Development Consent Order process last year, the Planning Inspectorate has sent its report and recommendation to the transport secretary.
Mr Parody said: 'In the meantime, we're ensuring that the bidders are fully informed on all aspects of the procurement process.'
The preferred bidder is expected to be announced next year.