As Highways England prepares for several major tunnelling projects, it has teamed up with watchdog Transport Focus for some timely insight into road user concerns around these key assets.
Proposed new tunnels at A303 Stonehenge and the Lower Thames Crossing will double the length of tunnels on Highways England's Strategic Road Network.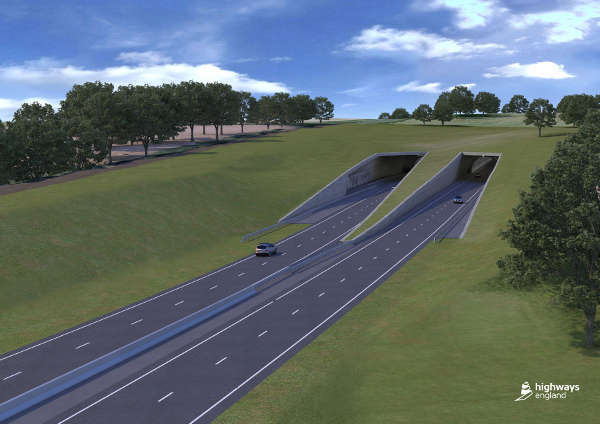 A computer generated image of the proposed tunnel for the A303 at Stonehenge
Using qualitative research conducted with road users, as well as a literature review, Transport Focus recommended that Highways England keep the following issues in mind:
ensure the specific needs of disabled road users are met when using existing and new tunnels, including providing wheelchair-friendly emergency escape routes
provide timely, accurate information about estimated travel time to allow road users to plan rest stops – particularly important for lorry drivers
ensure tunnels are intuitive to use and that specific 'rules' about speed and overtaking are clear
increase awareness of what to do if you break down or there is an emergency
learn from experiences in other countries about how to avoid monotony and boredom in longer tunnels.
This research suggested that road users anticipate changes to the 'rules of the road' when driving through tunnels, but they are unsure what these are. Specifically, the areas of confusion tend to be:
speed limits
changing lanes
overtaking
how large a gap to leave between the vehicle in front
whether to use lights, and which lights to use
what to do in an emergency
what to do if their vehicle breaks down
ability to stop and rest in a tunnel (especially a longer one).
Anthony Smith, chief executive of the independent watchdog Transport Focus, said: 'Road users expect driving in tunnels to be intuitive. Highways England must do more to remove confusion about speed limits, overtaking, and what to do if you break down.
'Highways England should also ensure that its existing tunnels are maintained to high standards, including road surfaces, lighting and cleanliness.'
Mike Wilson, executive director ans chief highway engineer at Highways England, said: 'Tunnels are rare structures that are not, for many drivers, a regular experience. Safety systems are a particular characteristic of tunnels and it is important that we understand our customers' perspectives on safety and tunnel environments. This report contributes to that understanding.
'We are drawing on the best international engineering and human factors expertise when reviewing our standards and educating drivers around the safe use of tunnels – and we will incorporate these useful recommendations into that body of work.'