Road conditions are usually rated as red, amber or green in ascending quality. But what about those on the borderline that can quickly deteriorate? Given modern survey techniques, highway authorities can refine asset management strategies to save money and carbon. The team at ASI Solutions make their case.
The rapid and comprehensive development of road surveys in recent years has helped highway departments build up a detailed understanding of local conditions. As a result, they can better identify suitable sites for surface treatments. More and more councils are redrawing repair plans and turning to cost-effective early interventions such as asphalt preservation, to help their roads stay in better condition for longer.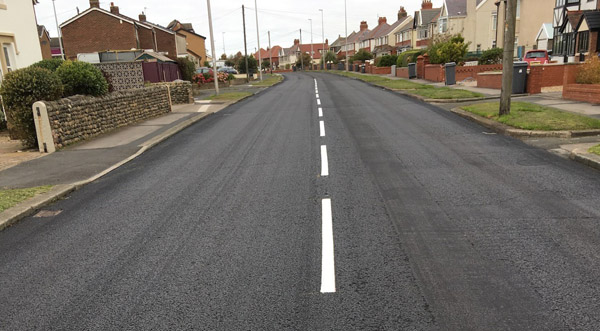 Local authorities such as Dorset Council are using condition monitoring to inform its asphalt preservation treatment plans. Michael Hansford, highways asset manager at Dorset Council, says: 'We've changed our strategy, in that as well as condition monitoring, we've established treatment intervention predictions, based on known construction data such as the date of construction, material type, knowledge/experience of deterioration of the said materials, primarily on our strategic network at this stage.
'This just prompts us to start looking at the need for early life treatments. Through condition data monitoring alone, we would often find that by the time they were amber, some materials had gone too far for any form of surface treatment—much to our frustration.
'By planning preservation techniques, we are getting to the surfaces in the early stages of deterioration. This is when it's just starting to look a little 'hungry' but before it starts to open up and certainly before any cracks begin to form, or any chip loss has occurred,' he adds.
Dorset is also one of many to have declared a 'climate emergency' and another benefit of targeted treatment is the carbon saving.
'At a time when local authorities are looking for more sustainable approaches to managing the surfaces of their assets, asphalt preservation can offer significant carbon savings (of more than 90%) compared to resurfacing. It is one of the most sustainable treatments for keeping roads in better condition for longer. Quick, efficient and safe night-time working means roads can re-open within a few hours of application,' says Dr Howard Robinson, managing director of ASI Solutions and former chief executive of the Road Surface Treatments Association (RSTA).
Wiltshire Council has taken a similar approach as Diane Ware, highways principal technical officer at the council, explains: 'At Wiltshire we believe in keeping an asset that is in good condition good, by preserving it for as little money as possible for the longest time. That is what the application of Rhinophalt or any other branded inhibitor product brings us; it is good asset management practice. It's like applying suntan lotion to your skin; it helps it stay young, and doesn't let an ageing process accelerate.
'We are planning to apply inhibitors to the network as part of our asset management strategy so that we can in future years spend our money in a wise and targeted fashion. We will be starting our 'early, early' interventions in the financial year 2021/22.'
What determines whether asphalt preservation is suitable for that borderline area between roads that are in green and light amber condition?
'Our approach is straightforward and honest,' says Dr Robinson. 'We will undertake a detailed site visit to work with the local authority on what roads are suitable for preservation. If they are not, we simply won't recommend it.
'The key thing here is to use the combination of local knowledge and technical information to try and identify roads that are approximately two years away from any sort of reactive maintenance-that is the most appropriate time to apply Rhinophalt,' he adds.
'It is most effective on three different types of surface: stone mastic asphalt (SMA), thin surface course systems (TSCS) and hot rolled asphalt (HRA). TSCS are designed to have a high level of course aggregates, and when they start to fail the whole matrix can start to fall apart, so preserving at the right time is crucial. If you can get this right, two treatments will enable them to last for another ten years.
'When we undertake our detailed site surveys, we are looking to avoid roads with deep structural damage already. We are looking for small signs of deterioration in roads that are well-constructed. We will work with council engineers to identify how these can be fixed and then apply Rhinophalt afterwards to hold the condition of the road still. Inevitably, there will always be grey areas between green and light amber roads, but Rhinophalt and ASI's experience is designed to cope with that,' adds Dr Robinson.
'For sites identified at an early stage in their lifecycle, and where options and funding might be limited, then Rhinophalt is a cost-effective solution to providing longevity to the carriageway asset,' says Martin Smith at Kier/WSP who looks after the Northamptonshire network.
That longevity is critical and one of the main reasons why, in recent years, there has been a significant rise in preservation treatments. 'In our case, Rhinophalt is a proven technology which people trust and that has led to more and more local authorities wanting to use the process to help keep their roads in better condition for longer. As well as this preservation is helping councils to comply with some of the requirements in the new Code of Practice; Well-Managed Highway Infrastructure around lifecycle planning and reducing whole life cost,' says Dr Robinson.
Paul Boss, former asset manager in Staffordshire, says asphalt preservation is 'one of a number of different treatments' that should be in the asset management toolbox.
'It is a preventative maintenance treatment that should be utilised as part of a whole lifecycle asset management approach, reducing both costs but also, just as importantly, the effects on the environment from carbon generation. Road maintenance operations are usually the biggest carbon generator within a roads authority. Many authorities have declared a climate emergency and the government has set challenging carbon reduction targets. So, it's not just economically and socially important to save money and reduce disruption on the network. It is also right to protect our environment and help meet the carbon reduction targets required by government,' he says.
'While I was at Staffordshire, I had seen how Rhinophalt had successfully been used as a preventative maintenance treatment for many years on the M40 motorway.
'There are areas of the network that are not suitable for surface dressing such as major traffic islands and junctions. The only other option on these areas is to leave them to deteriorate leading to expensive reactive and/or premature intrusive surfacing works. These areas take a disproportionate amount of the budget as they do not normally lend themselves to other preventative treatments.
'I had one particular 'A' road that was due to be surface dressed the following season but began to pothole quite badly in mid-September, too late for a premium surface dressing. Without intervention, the carriageway would have been subject to constant reactive patching over the winter and likely required deep recycling or traditional resurfacing within a few months.
'By undertaking patching works and treating it with the Rhinophalt asphalt preservation within three weeks, we were able to save the road. This section was preventatively surface dressed again only after a six-year period. On heavily trafficked roads that are already in green condition when treated, you can get eight to ten years before needing to re-apply another preventative surface.'
Rhinophalt contains the original American Gilsonite, which is a natural bitumen and a mineral antioxidant. It is a key component in preventing asphalt deterioration caused by oxidation of the bitumen. Gilsonite resin is much harder than bitumen – so as well as being an antioxidant it also reinforces, seals and strengthens the surface course and slows down asphalt ageing.