Sustainable transport campaigners have voiced concern after the Welsh Government said it will consider allowing HGVs to use bus lanes in the country to ease traffic flow.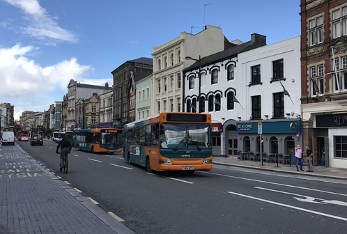 The move follows a suggestion from the country's traffic commissioner, who regulates both HGVs and buses, which was taken up by the Welsh Assembly's Economy, Infrastructure and Skills Committee.
A Welsh Government spokesperson said: 'The committee wrote to the cabinet secretary for economy and transport, Ken Skates, who agreed to review the potential for allowing HGVs to use bus lanes in Wales in limited circumstances.
'We will now hold discussions with relevant highway bodies, the traffic commissioner, road and freight transport organisations, and interested parties across the transport spectrum, looking for conclusions to be published in 2019.'
Natasha Withey, from Sustrans Cymru, told the BBC: 'To improve traffic flow, cities need to reduce the number of vehicles on the road through encouraging more people to use alternative means to get around, not discourage cyclists through making their dedicated infrastructure unsafe.'
The Freight Transport Association said it was 'delighted' to hear that the Welsh Government was seriously considering the idea.
A spokesman said: 'Making better use of valuable road space by allowing trucks to use bus lanes not only eases congestion, but helps to keep delivery costs down and ensures food and other vital supplies arrive on time at our shops and homes, something that benefits everyone.'
In his annual report, traffic commissioner Nick Jones noted that 'there have been instances across Great Britain where the introduction of bus lanes has had the effect of a negative public reaction with a degree of hostility' and pointed out that in some parts of the country (outside Wales) local authorities have allowed HGVs to use bus lanes 'where the roads are planned so that this is facilitated'.
He stressed that he was not suggesting that lorries should use all bus lanes but said that 'each case should be considered on its merits and that there might be occasions when allowing HGVs to use a bus lane will improve traffic flow'.