Transport minister Baroness Vere has announced a £24m investment in Wokingham for the new 2.3 km Arborfield Cross Relief Road, which will link the A327 Reading Road to the A327 Eversley Road.
The scheme will support housing developments in the area, including enabling 3,500 homes to be built at Arborfield Garrison.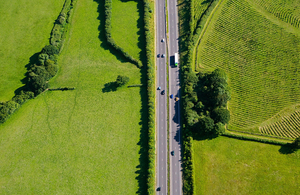 The new route also includes a dedicated pathway for cyclists and pedestrians through the inclusion of a three metre wide pathway alongside the eastern side of the proposed carriageway.
Baroness Vere said: 'This vital £24m scheme will provide a new route for cyclists, drivers and pedestrians, helping reduce traffic through local routes and making towns a nicer place to live.'
DfT officialss said that by 2026, without the relief road, rush hour traffic through the village of Arborfield Cross is forecast to increase to around 3,200 vehicles per hour, risking worsening local delays.
Wokingham Borough Council leader John Halsall said: 'This is exceptional news for the borough, reducing congestion is a principal objective for us at Wokingham and we welcome this funding to assist in the delivery of the identified infrastructure.'