More than 3,100 people (including the team here at Highways) have signed a petition to change the law to give roadworkers greater protection against abuse and violence.
The Stamp it Out campaign wants to make it a specific criminal offence to assault highway workers, changing the law to give #highwaysheroes on the front line the same level of protection against abuse as emergency workers.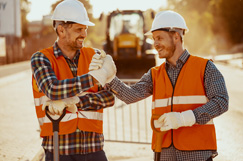 The news follows recent incidents of roadworkers being threatened with knives, shotguns or even crossbows.
The petition needs 100,000 signatures for the subject to be debated in Parliament.
Led by Kari Sprostanova, health and safety director of Balfour Beatty UKCS and Rachel Heaps Busines Management Systems Manager at Tarmac, the Stamp it Out Taskforce is hoping to highlight and eliminate the worrying levels of abuse workers in this industry suffer.
In a statement to launch the petition, the taskforce said: 'Road worker abuse is a growing concern on both the local and strategic road networks in the UK as well as the wider highways and transport sectors, affecting the physical and mental health and wellbeing of workers on an alarmingly regular basis.
'Past incidents have been so severe, they have involved knives, shotguns and crossbows being pulled on workers as they go about their daily tasks.
'Stamp It Out believes this is wholly unacceptable and wants to see abuse of all kinds whether verbal or physical, eliminated on all road networks and indeed in the wider transport industry as well.'
Other members of the taskforce include David Campbell, HSEQ director of Eurovia Ringway, James Birch, managing director of Kier Highways – Local Authority, Joe Docherty, HSEQ director of Amey Transportation and Dave Foster, SHEQ director of Carnell.
Ms Sprostanova said: 'Everyone has the right to feel safe at work. Nobody should ever be threatened, intimidated or assaulted because of the job they do. And yet this is a scenario faced by thousands of people who work on this country's road networks every single day. Abuse of doctors, nurses, police officers and other key workers is not tolerated. Our road workers should not have to tolerate it either.'
Stamp it Out also aims to support free to access training on conflict resolution and to provide a free to access app for the workforce to be able to report instances of abuse in real-time with 'you said, we did' feedback.
The culmination of the campaign will be a 'Respect our Roadworkers' week – commencing 21 June 2021 with summits taking place at the House of Lords hosted by the Department for Transport and a second event in Scotland on 24 June.