The 2021 ADEPT Autumn Conference on 18 and 19 November will focus on 'collaboration, climate and COVID recovery', and features an impressive speaker line-up from a range of department areas.
Taking place at the Apex City of Bath Hotel, the conference is based around a series of plenary and workshop sessions and, as well as talks from senior figures in ADEPT such as president Paula Hewitt, the conference will also feature big names such as:
Tom Walker, director of the new Levelling Up Unit at the Cabinet Office;
Natalie Prosser, CEO of the Office for Environmental Protection
Simon Gallagher, Director of Planning at MHCLG.
Also speaking is Sir Michael Marmot, Institute of Health Equity, who will discuss how we can 'build back fairer and the COVID-19 Marmot Review' and Baroness Brown of Cambridge will discuss the role of local government in delivering the net zero strategy.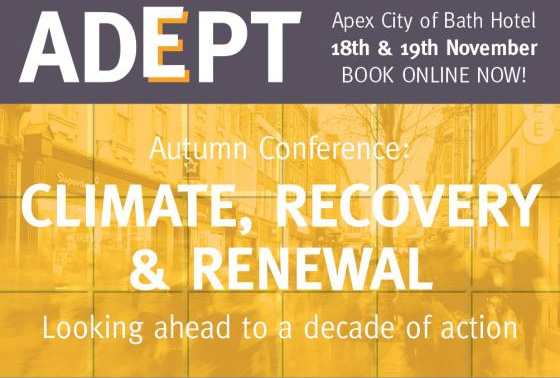 Mark Kemp, first vice president and chair of ADEPT's Transport and Connectivity Board, said: 'We are looking forward to welcoming people to our conference which has a fascinating programme focusing on how we go beyond the initial recovery from the pandemic and develop places that are truly fit for the future. ADEPT members are facing challenges on many fronts.
'What does "levelling up "mean and how do we encourage economic growth whilst embracing the sustainability agenda and delivering on many councils' commitments to be net carbon neutral well before the 2050 target date from Government?
'How do we create places that deliver and support a healthier and happier community and how are we embracing innovation in place services to support all these ambitions?
'This is a really exciting time for ADEPT members as we are at the forefront of delivering against all these ambitions. The conference will give us a chance to take stock and to celebrate what we are achieving.'
In a statement, ADEPT added: 'Recovery and climate change will dominate our thinking and determine the future of place for years to come. As we all know too well, transformative and longer-term funding is key, but we also need to collaborate more extensively, more meaningfully and more effectively if we are to meet these challenges.
'The ADEPT Autumn Conference 2021 will give us time to reflect on these complex and interrelated issues, share experiences and listen to exciting speakers with fresh ideas for shaping the future.
'Place directors and their strategic partners have a key role in driving and supporting recovery and renewal. It feels like this is a once-in-a-generation opportunity to re-set the world we live in and to build back better and greener.'