This year's ALARM survey has recorded a triumphant headline result for local authorities in England and Wales with the estimated highways maintenance backlog falling by almost 23% to £9.31bn from £12.06bn.
The 23rd Annual Local Authority Road Maintenance (ALARM) figures represent the best result for authorities in roughly a decade, after the estimated one-time 'catch-up' cost to bring roads into a suitable state had stubbornly held around £12bn for several years.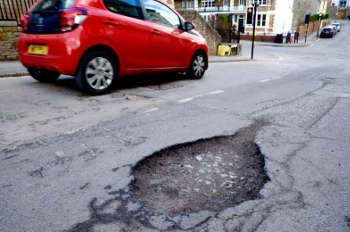 Increased asset management and greater investment appear to have paid off for authorities, now given an annual self-assessment questionnaire with a ring-fenced share of the national Incentive Fund up for grabs for those who manage to get into the higher Bands 2 and 3.
England saw a major rise in highways funding despite the continuing challenging picture in local government finance.
'In England outside London the average local authority budget for highway maintenance increased by 20% to £26.2 million (2016/17: £21.8m), 55% of which is funded by central government.
'Respondents in London saw a 22% rise, up from an average of £7.5m last year to £9.2m, a return to a similar level reported in ALARM 2016, while budgets in Wales saw a slightly smaller increase of 17% to £8.1m in 2017/18 (2016/17: £6.9m).'
However beneath the headline figure there is still a troubling picture for the local road network, with 'little change in the overall structural road condition reported' and overall, 20%, or one in five local roads now rated as poor – having less than five years of life remaining. This is equivalent to 40,082 miles of the local network in an unacceptable state.
The exception is London, where the percentage of roads classed as good has increased to 51% (2016/17: 45%), while those classed as fair has dropped by a third to 26%. The percentage of the network classed as poor in the capital also rose, from 16% last year to 23% – an increase of 43%.
The survey is commissioned by the Asphalt Industry Alliance. Chairman Rick Green said: 'Highway teams in England and Wales report that the gap between the funds they received in 2017/18 and the amount they actually needed to keep the carriageway in reasonable order is approaching £556m – a shortfall of £3.3m for every authority. And it would now take 14 years to get local roads back into a reasonable steady state, provided of course they had adequate funds and resources.'
The amount of money spent on compensation claims from highway defects also rose to £28.3m. 'The figures indicate that almost 82% of claims relate specifically to pothole damage but a small number of local authorities have experienced high individual claims for significant incidents.'
Local authorities report that they are working towards compliance with the new code of practice, which comes into force in October and is a key document courts use to ascertain whether an authority has met its statutory duties.
In England 92% are on course to meet the deadline this year, 100% in London but only 63% in Wales.
However, while the new code ushers in a risk-based approach to asset maintenance, and was hailed by the Department for Transport (DfT) as removing standards, the ALARM survey found that: 'Around '65% of authorities responding to the ALARM survey use the guideline depth of 40mm to define a pothole, with this definition largely unaffected by the introduction of the new Well-Managed Highway Infrastructure Code.'
Just over 60% of authorities responsible for roads in England and Wales responded to the report, which extrapolates to find a national picture. The survey does not include councils with a PFI deal..
Sadly the north-south divide applies to highways as well: 'Local authorities in the north have responsibility for 45% of the local road network in England and Wales, but receive, on average, two-thirds of the overall highway maintenance budget enjoyed by those in the south (£19.32m in the north; £26.95m in the south). The annual shortfall reported for northern authorities is £4.1 million; 52% higher than those in the south (£2.7m).
'Northern authorities would need an average of £65.2 million to carry out a one-time catch up, in comparison with the £57.8 million authorities in the south say they need.'
Cllr Martin Tett, the Local Government Association's transport spokesman, said: 'Careful and efficient management of our roads by councils has seen some progress being made into tackling the backlog of road repairs. However, increasing traffic levels, and more cars on our roads, together with continuing extreme winter weather conditions means that government needs to keep funding of local roads as a priority in its spending plans.
'Only long-term and consistent investment in local road maintenance can allow councils to embark on the widespread improvement of our roads that is desperately needed, to the benefit of all road users up and down the country, including cyclists.'
A DfT spokesperson said: 'While it is for councils to identify where repairs should be undertaken, we are also looking at how innovative technology can help them keep their roads in the best condition and save money.'