Aggregate Industries has won a £70m contract to deliver the surfacing works for England's largest current road improvement project.
The contract was awarded by the A14 Integrated Delivery Team (IDT) after a 12-month process of early contractor involvement.
Aggregate Industries will create more than 21 miles of new multi-lane carriageway under the A14 Cambridge to Huntingdon Flexible Pavement Works contract.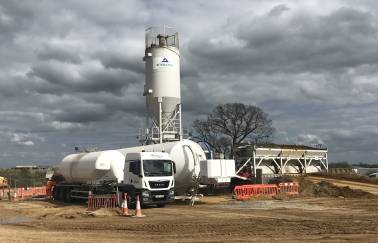 This will involve supplying and installing 700,000 tonnes of asphalt and 500,000 tonnes of cement-bound Granular Material (CBGM) over a 30-month period, using local primary and secondary aggregate supply sources.
Mark Berg, project pirector for the IDT, said: 'Over the last year, the Aggregate Industries team demonstrated that they have the right collaborative, safety and innovative attributes to support the world class delivery of this complex project.'
Paddy Murphy, director of contracting at Aggregate Industries, said: 'Our joint aim is to collaboratively deliver the works on time and on budget, while ensuring that we keep everyone safe by implementing industry-leading health and safety standards.
'Leaving a legacy is key to the project. We are committed to playing our part in providing local employment opportunities and apprenticeships that will provide long-term benefits to the region.'
Aggregate Industries said that to deliver a highly sustainable and efficient solution it has invested in a new £3.5m mobile asphalt plant, capable of producing 240 tonnes per hour, and will be erecting two further mobile cementitious continuous mixing plants (pictured) within the site compounds.
By situating manufacturing units on site, it aims to reduce impact of operations on the local community and the network.
Chris Hudson, the firms's managing director of asphalt and readymix, said: 'Our proven track record delivering large infrastructure projects, such as the A1 Leeming to Barton Improvement Project and the Aberdeen Western Peripheral Route, means we are a trusted provider. Our investment into the new asphalt plant further emphasises our commitment to delivering this project.'
Highways England's A14 Cambridge to Huntingdon major scheme will upgrade the road between Ellington, west of Huntingdon and the Milton junction on the Cambridge Northern Bypass at an estimated cost of £1.2 - £1.8bn and is due to be completed in 2020/21.