Amey Consulting has won funding for two projects that will attempt to use smart technology to improve air quality around the strategic road network.
The award is part of a £20m competition from Highways England seeking to promote ideas that will revolutionise roads and driving.
Amey Consulting managing director Alex Gilbert said: 'As the UK's road networks accommodate growing numbers of users each year, we have an increasing responsibility to protect local communities from harmful emissions and support a healthier environment.
'Investment in smart infrastructure is essential for this to happen and we are delighted to have secured funding for both projects.'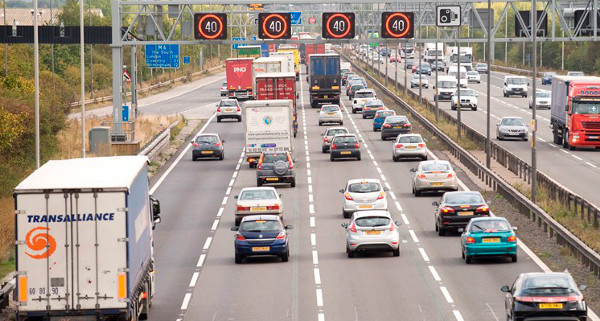 The firm's first project, 'Dynamic air quality management', aims to improve air quality by dynamically changing the speed limit on smart motorways.
As part of the project speed limits can be introduced when poor air quality is predicted, as opposed to pre-defined time periods, allowing motorways to run at the national speed limit for longer.
Predictions will be gathered from a dense network of real-time air quality sensors, which will be installed in local communities to monitor for harmful pollutants such as nitrogen dioxide (NO2).
The second project, 'Green Light Optimised Speed Advisory' (GLOSA), was also granted aims to improve air quality by reducing the number of stop-starts when vehicles leave motorways via inclined off-slips at signalised junctions. Stop-starts of freight vehicles including hill starts, significantly increase fuel consumption, brake wear and emissions.
GLOSA informs drivers when traffic lights will change, recommending a speed to approach the signals without needing to stop.
The competition was facilitated by Innovate UK, as a small business research initiative Highways England received over 200 applications for funding.