One of the key aspects of innovation is that you can't be afraid of (safety monitored) trial and error. Every bold step forward requires a background of missteps and not-quite-perfect attempts.
In the era of big data and computer learning, this process is happening all around us all the time with many systems evolving and adapting with use in real-time.
It is within this context that the news that Highways England will be carrying out a 'comprehensive review' of variable speed limits on motorways, after admitting that lower limits were not always correctly set, is to be welcomed.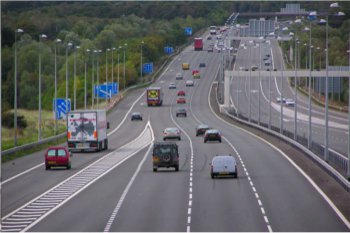 Highways England chief executive Jim O'Sullivan explained that 40, 50 or 60mph limits were being set as a preemptive measures when congestion was expected to mount on 'smart motorways' in England, using predictions about traffic levels.
He also admitted that there was 'dissatisfaction' among some motorists when the expected build-up failed to materialise, forcing them to drive slowly along free-flowing roads
As Highways understands it, part of this issue is likely to be because the system is working well to prevent the predicted congestion and part of it is because the system is, understandably, not quite perfect yet and speed restrictions are being triggered for the wrong reasons or maintained for too long.
Highways England has done the right thing in being open about this and the review is not just as good news for drivers, but good news for professionals and the systems they seek to refine.
Highways received a briefing on the background to this, which demonstrates some of the complexity that goes behind this issues.
Highways England traffic officers have control over a manual system on smart motorways, which have variable speed limits and the potential to open the hard shoulder for all lane running. These officers are directly responsible for core tasks like opening up a hard shoulder.
However there are also elements to the variable speed limits system that operate under an automatic algorithm system for regulating speed. Apparently anomalies on the network, such as a particularly slow moving car, can lead to the automatic system being triggered and unnecessary speed restrictions being put in place for unnecessary amounts of time.
Traffic officers are being trained in how to spot and override this, while the review could help evolve the background system and its algorithm.
Highways England did a piece of research and trial analysis looking at traffic flow on the strategic road network in the North East from February to March this year compared with February to March last year.
The research highlighted some of the issues with the algorithm system that need further development, hence the comprehensive review.
The review could take 12 months over this financial year and would take into account next February and March's data and hopefully provide enough information to tweak and finesse the automatic algorithm system for regulating speed.
However Highways England stressed this will be an ongoing process, as the government-owned company seeks to take away driver frustration as and when it arises.
Highways England executive director of operations Nick Harris said: 'Variable speed limits help keep drivers moving by smoothing the flow of traffic and improve safety for all road users. We have trialled an improvement to the signal settings to reduce the length of time these are set to help restore the national speed limit quicker to further improve journeys.'
One issue that needs to be considered alongside this is speed enforcement.
Data obtained under by the Times under Freedom of Information showed that 72,348 people were fined on motorways with variable speed limits last year. This was almost double the number a year earlier and a tenfold rise in five years. Of those, two thirds of fines were imposed on motorists driving at 69mph or below, even though the national speed limit is 70mph.
This suggests that the majority of people are being fined for speeding when variable speed limits have been put in place. One potential solution to this is the introduction of average speed cameras along certain routes.
Average speed cameras do not currently operate on smart motorway sections, i.e. where the speed varies.
The system has worked well on the A9 in Scotland, and despite the usual initial concerns over over-zealous enforcement, the use of average speed cameras has been celebrated by Scottish ministers as a major step forward in road safety.
It might make a nice irony if they also saw people fined less on English motorways.