Two people have been arrested in Lambeth in connection with alleged vandalism of signage and plantings at the borough's emergency Low Traffic Neighbourhood (LTN) schemes.
The news comes as Lambeth Council claimed it put in 'extra measures' to stop the vandalism including extra CCTV, more council patrols and a request for extra police visits.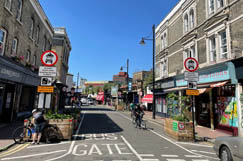 The council also wrote to residents thanking those who have reported the damage and asking that anyone who has a concern about the issue email lowtrafficneighbourhoods@lambeth.gov.uk.
A man was arrested on 31 July after allegedly spray painting signs at the Ferndale Road LTN, and a second man was arrested the next day after allegedly stealing a sign from the same scheme between Brixton and Clapham, the council said.
CCTV evidence has been passed to the police so further action can be taken.
Cllr Danny Adilypour, joint cabinet member for sustainable transport, environment and clean air, said: 'We are taking a zero tolerance approach to this vandalism and any associated anti-social behaviour, including verbal abuse of staff maintaining these sites.
'We will press charges against any individual involved in these criminal acts where we have enough evidence and we will publicly name and shame anyone found guilty.
'We will continue to monitor the borough's five Low Traffic Neighbourhoods.'
The five LTN schemes are all currently in a trial period under Experimental Traffic Orders to understand how they impact traffic movement. Vandalism to the schemes could extend the trial periods and delay the planned public consultations, the council said.
The LTNs restrict private vehicle traffic and are in place to maintain a safe street environment, support green transport options and improve air quality.