Rick Green, managing director of Hanson Contracting, follows in an honourable tradition of Asphalt Industry Alliance (AIA) leaders who make no apologies for complaining. However, Mr Green has overseen a change in lobbying approach that is perhaps starting to have a real impact. Dominic Browne reports.
Rick Green's first claim to fame came when he was six years old. After the Beatles put Merseyside on the map, Mr Green became its chess champion in 1968. He shrugs it off, but with a smile. Back then he would not have predicted a career in highways but the adult Mr Green doesn't appear to regret it.
Having secured a civil engineering degree, he entered the industry and started working for Galliford 'when it was just Galliford' – now Galliford Try, of course. After around 10 years there, he went to Hanson for another decade, then Tarmac, and then returned to Hanson about two years ago.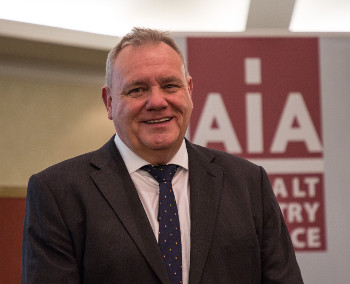 'Pretty much all my career has been in the road building industry. I think it's a great place to be.'
Who better to champion the sector as AIA chairman? Mr Green spoke to Highways shortly before the latest Annual Local Authority Road Maintenance (ALARM) survey had been fully signed off. Due to the secrecy around this document, there is little he can say about it, but he reiterates the shift in campaigning that has been made under his leadership.
'Up until this year we have just moaned about how many potholes there are but not really suggested a solution to fix it.
'On the back of the National Roads Fund hypothecation, we said that if there was 3p per litre on fuel hypothecated to the local road network that would generate £1.5bn a year. We are saying we need £1.5bn extra a year over 10 years as a potential solution.'
The change of strategy for the AIA is an astute one. There has understandably been growing unrest from councils as they saw Highways England's network – roughly 2% of English roads by length – secure a funding settlement they could only dream of. The result is, as transport minister Jesse Norman has pointed out, a realisation from central Government that local roads are not just something that can be left to councils.
Mr Green is too modest to claim credit for the change but there is no doubt that the ALARM results every year provide a very big stick to prod the Treasury with.
'We have had conversations with the likes of Jesse Norman and shadow transport secretary Andy McDonald and they are saying this information is useful.
'I think it's coupled with the state of the country's roads. I think their inboxes are full of disgruntled people talking about potholes and the state of the roads. It's not just the AIA and the ALARM survey that persuaded them. It's all part of the campaign to get more funding for local roads. I think they get that they set up a plan to help the strategic road network, but the underlying economy depends on the local network. We are just not investing in it and they need to. It's falling to bits. There is a huge funding gap.'
The ALARM survey has had its detractors. Some argue that authorities have different approaches to reporting the backlog. However, having been going for a generation, even with outliers, it produces its own benchmark – especially if you consider councils are likely to replicate their approach, best practice or not, year after year.
'The ALARM survey is about data and I think it has become almost authoritative now. We have been doing it for 24 years. I think people respect that the data is robust.'
One issue that is likely to impact results is authorities' confidence in new strategies. Having made a concerted switch to asset management in recent years, the 2018 survey saw a huge drop in the total cost of the backlog – down from around £12.06bn to £9.3bn. The news almost came as an embarrassment to a sector used to complaining. This year's slight rise despite a funding increase also throws a somewhat counterintuitive slant on the results.
Mr Green suggests 'we only really have two data points – the Department for Transport's own figures and the ALARM survey' and disputes other estimates of network value.
Highways has reported on the rows over the official recording of the value of the local network – whether historic figures should be used or current replacement costs – with figures varying by some £244bn.
'We think the network is worth £400bn. Unclassified roads allegedly being replaced every 132 years sometimes, which I think is another way of saying never. Even if it is 30 or 40 years, we are not doing it enough.'
When it comes to the part materials play in all this, Mr Green understandably deflects a little back to funding, adding that one would expect him to do so.
'Over the last decade there have been a lot of new materials brought to the market and new roads being built at the moment are more resilient, and the quality is improving all the time.
'The materials we are using are developing all the time. We are spending a significant amount of money on research, bringing new bitumen into play and new material designs, designing materials for specific purposes. Polymer modified bitumen is being developed all the time.
'I don't think there is a problem with the materials. I suppose I would say that because I work for a materials manufacturer, but I genuinely do see the science in the material development improving quite significantly over the last few years. I think we are using the right ingredients; I just think we don't have enough money to buy the ingredients in the first place.'
He concedes that even given unlimited funding it is hard to say how councils' procurement might change.
'The honest answer is I am not sure. I mean some might not change their materials. It's traditionally fairly conservative. We go through trials and new materials won't be adopted as a standard for quite some time until they are tried and tested, so it is slow trying out new materials.
'As the technology evolves, they will be adopted it; it just takes time to get them through that process.'
This brings us on to the issue of using plastics in roads – an area where the sector has moved very quickly in a short space of time.
'If it works and the technology is good then isn't that fantastic? It would be a great way of disposing of plastic. At the moment it is probably going in at a rate of six kilograms every tonne, which is 0.6%. It's not a lot compared to the mountains of plastic that are being disposed of.
'The second part is some of the engineering fraternity are quite cautious. It has not been around long enough to be tried and tested. No one will have a five-year road, which is using plastic.
'The other issue of concern is we are very good at recycling asphalt without plastic and awful lot of it gets recycled and gets back into asphalt roads. At the moment no one has given a satisfactory answer on whether we will still be able to recycle roads when they have plastic in them.'
Despite much wider uncertainties in the sector, Mr Green is optimistic and would recommend highways and infrastructure to any young engineer.
'Over the next five to 10 years, the construction sector is a good place to be,' he states.
Mr Green is part of a sector paid to keep things in check, and while a checkmate is probably impossible, the survey his alliance produces is surely one of the most powerful pieces on the board. His six-year-old self should be proud.