A county council has backed Highways England's plans for the A417 'missing link' in the Cotswolds despite environmental campaigners objecting to it in the 'strongest possible terms'.
As Highways has reported previously, the government-owned company will have to ask the transport secretary for specific permission to move forward with one of its preferred options, which have been assessed as providing 'poor' and 'low' value for money respectively.
Campaign for Better Transport (CfBT) said the case for the new road is very poor and that if it were to go ahead in the proposed form it could set a dangerous precedent to building in Areas of Outstanding Natural Beauty (AONB).
Roads campaigner Chris Todd questioned the consultation process and added: 'These highly damaging proposals should be dropped immediately. Removing all tunnel options from the consultation by imposing an arbitrary spending limit and effectively only consulting on one option is excluding the public from helping shape the outcome. This is not an acceptable way for public money to be spent.
'Highways England's preferred option would cause significant damage to the Cotswolds AONB. It clearly fails the major development test and would set a dangerous precedent for damaging development elsewhere. Highways England needs to go back to the drawing board and come up with something far better, including spending the money improving public transport and shifting freight from road to rail.'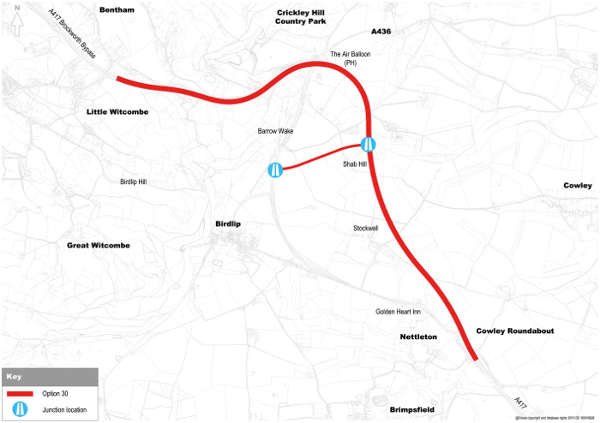 Gloucestershire County Council strongly supports the proposals however, specifically Option 30 (pictured), a 3.4-mile surface route following the alignment of the existing A417 at Crickley Hill with less of a slope.
Although this option would cost £485m and provide a 'low' return of investment of £1.04, Highways England has said that it 'is the only route to offer positive value for money, meaning that the return on investment is estimated to be higher than the initial cost'.
Cllr Lynden Stowe, chairman of Gloucestershire's Economic Growth Joint Committee and cabinet member for economic development, said: 'As lead cabinet member I support route option 30 as we continue to push for a solution to the A417 missing link.'
The 'missing link' is a 5km stretch of single carriageway on the A417, with the remaining route between the M4 at Swindon and M5 at Gloucester being dual carriageway. A consultation on Highways England's plans closed last week.
Highways England has previously said that its two proposed options would provide a number of benefits, all of which would enhance the area's economy.