Costain has appointed Andy Clarke as integrated transport director.
The 'smart infrastructure solutions company' said the creation of the role reflects the importance it places on working collaboratively with a range of partners to transform the customer experience of transport, 'helping to catalyse the green transport revolution'.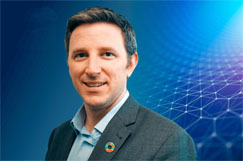 Mr Clarke said: 'At Costain, we see integrated multi-modal transport solutions as critical to our efforts to enable healthier, happier and better-connected communities.
'By leveraging new technologies and even more collaborative ways of working, we can enable seamless, cleaner and more active journeys for customers. This is essential if we are to provide a compelling journey experience which encourages customers to opt for blended journeys, which help to reduce our carbon footprint.
'This is a very exciting time for the future of transport in the UK. However, we can only realise the true benefits of this approach if we work across the siloes and truly collaborate to ensure that our transport network as a whole works for customers and communities.'
Costain said it is currently delivering several integrated transport projects, including the redevelopment of Gatwick airport station alongside Network Rail.
It is also exploring the role of digital technologies in enabling safer, cleaner and better integrated journeys on the national and local road network, with projects such as connected digital roads – a collaborative R&D project with Highways England innovation funding that 'demonstrated that vehicle-to-everything communication can be used to enable near-real time responses to road conditions'.
It said these findings provide a blueprint for maximising the capacity of the existing road network and improving the customer experience by minimising congestion, idling time and carbon emissions.
Costain said its contribution to the ongoing Midlands Future Mobility project 'takes this thinking a step further, exploring vehicle-to-infrastructure communications on the local road network – an important step towards last mile connectivity'.