May is Living Streets' National Walking Month. This year, the charity for everyday walking is highlighting the need for our streets to be fit for nine and 90-year-olds. It says that this will make them fit for everyone.
Rebecca Cox, principal technical manager at Living Streets tells us more.
Older people and their local streets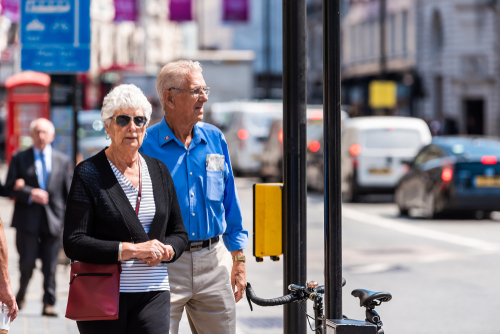 If you are an able-bodied pedestrian, there may be many issues on the street that won't hinder your daily life. For older people, children and those with disabilities, this isn't always the case.
Something that may seem small to most of us can have a profoundly negative effect on those who are more vulnerable. Things like pavement obstacles, a lack of lighting and cracked pavements.
This year we've heard from over 65s that bad pavements are putting a third off walking on their local streets. This can lead to inactivity and social isolation – both of which can lead to significant health issues.
A lack of benches is putting a quarter off going for a local walk and two thirds are worried about the state of their local streets.
Pavements are a problem that cash-strapped local authorities aren't always addressing. In fact, they spend just 12% of their local transport infrastructure fund on pavements; the rest goes on roads.
Here at Living Streets, we want to see an increase in the investment local authorities are putting into their local pavements so that older adults, and others, feel happier and safer walking local, everyday journeys.
Not only are older people sometimes at a disadvantage on our local streets, they often aren't included in the process of developing new street infrastructure.
Consulting with pedestrians about our street design
Pedestrians can easily be excluded from new transport infrastructure consultations' partly because of physical exclusion related to the 'design man' concept but also through a process of unintentional self-exclusion, caused by a lack of identification as a pedestrian.
This stems from the perennial issue of walking not being treated as transport, which in turn, means even professionals won't necessarily treat pedestrians as transport users. There's a good chance therefore that pedestrians just won't be asked the same sorts of questions and their responses won't be treated in the same way as a cyclist or motorist.
What is the 'design man' concept and how does this effect other pavement users?
The 'design man' concept is an idea gaining traction; that pretty much everything on our pavements is designed based on a typical man's dimensions, perceptions and needs. It's subtle in most cases but includes things like the height of hand rails, which are often too high for the average woman.
This can, of course, also mean things that impact other groups of people just aren't thought of in the design process. For example, a lack of public toilets is more likely to be an issue for elderly people, parents and menstruating women but if there isn't a representative of any of those people at the decision making point, or if the one parent consulted just doesn't happen to mention it, things like that can get overlooked.
In using this concept, we are leaving out whole groups of people who have specific needs for their streets because we're effectively starting from a blank slate and relying on representatives of groups to raise things.
Not an inherently bad approach but it can lead to things getting missed. If there are some guidelines or prompts in place for designers to follow, that can help ease the pressure on consultation.
Also, the more these sorts of things are present in the built environment, the more people get used to them, which widens the group of people who might think to raise them in consultations because they are raising the point on behalf of other groups.
Considering all avenues
In general, there is an issue with putting people in groups and making presumptions about their needs. For example, not all women are frightened of cycling and not all visually impaired people like tactile paving.
It's useful to have guides based on group needs but also important to presume heterogeneity and consult individuals, as well as groups.
The internet as a means of consultation is great in many ways as it can transform consultation for what were previously hard to reach groups (young people, people working, parents etc).
But there is a risk in completely throwing out more traditional consultation methods as the internet is also inaccessible to a surprisingly large amount of people - even if they technically have access, they may not feel comfortable using it.