Transport Scotland has said it still expects the troubled Aberdeen bypass to open in the autumn, despite the remaining contractors on the project predicting a finish this summer.
In March the Scottish Government announced a six-month delay on the £745m Aberdeen Western Peripheral Route (AWPR) project, which has been beset by problems including the collapse of Carillion, which was one third of the joint venture building the road.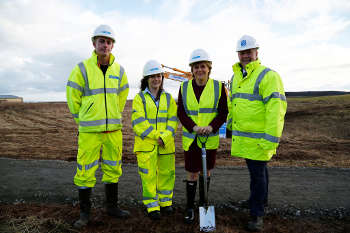 In a trading statement ahead of its annual general meeting this week, Balfour Beatty said that completion of the road is 'still expected this summer'.
It added: 'There is no change to the £105 - £120 million Balfour Beatty cash outflow guidance for 2018 provided at the full year 2017 results.'
Galliford Try, the other remaining party to the joint venture, also predicted a summer finish but suggested that it would take a further loss on the project.
In a trading statement. It said: 'On the Aberdeen Western Peripheral Route we are making good progress on site, with progressive handover of sections of road under way.
'We have experienced some further cost pressure, principally from weather delays, which are likely to increase the exceptional charge in the current year. The amount will depend upon progress recovered through the summer, and is expected to be lower than the charge (£25m) taken in the first half. We are continuing to discuss several significant claims.'
It added: 'Practical completion of the project is anticipated this summer.'
However, a spokesperson for Transport Scotland referred to a statement in Mardch from economy secretary Keith Brown that the road was expected to open in the autumn.
At that time Mr Brown stated that the cost estimate for the scheme remained at £745, which was the estmate when first minister Nicola Sturgeon officially launched works in 2015 (pictured)
Last year Galliford Try said it would in future avoid large, fixed-price infrastructure projects after losses on two projects, believed to be the AWPR and the Queensferry Crossing.