Alun Griffiths will begin work next month on an £18.3m junction upgrade on a key route into Taunton that was postponed last year 'to support the local economy during the coronavirus recovery'.
Somerset County Council is upgrading the Toneway Creech Castle junction to ease congestion and improve access to the town. It describes the junction on the road known as the Toneway, where the A358 intersects with the A38 Bridgewater Road, as a main pinchpoint on the Taunton highway network.
The council said key problems include limited stacking space for vehicles turning right into the A38 Bridgwater Road, and queuing on the northbound and southbound approaches of Bridgwater Road.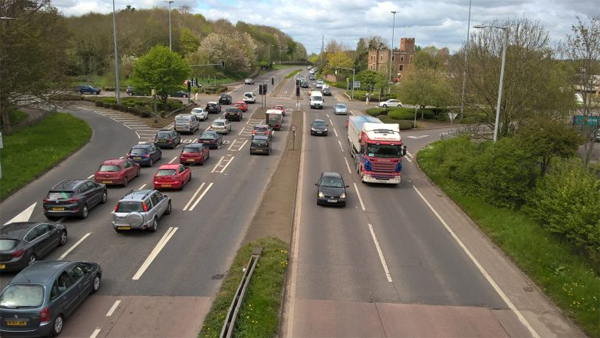 Pictured: The existing Toneway Creech Castle junction
According to the contract award notice, which values the contract at £6.4m, the scheme involves:
increased lanes on all approaches
removal of right turn from A358 West into Bridgwater Road South
at grade pedestrian and cycle crossings
new cycle access bridge on Bridgwater Road North.
The council says a key objective of the scheme is to encourage walking and cycling by reducing the severance of the Toneway.
The scheme includes the first parallel crossing in the county with 'separate, easily identifiable routes for cyclists and pedestrians, with coloured surfacing to highlight the route for cyclists and separate signals to show cyclists and pedestrians when it is safe to cross'.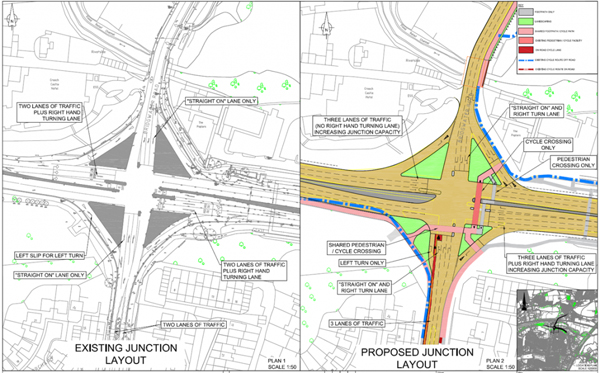 The new layout design in colour
The council originally planned to begin work in April 2020 but the scheme was temporarily paused 'due to the start of lockdown and uncertainty over materials, sub-contractors and key utilities work'.
In June last year, it postponed the scheme for another 12-18 months 'to help support the local economy during the recovery by minimising any temporary disruption on a key route into Taunton'.
The overall cost of the scheme is estimated to be £8.3m, with funding from the Heart of the South West Local Enterprise Partnership Growth Deal Fund, Somerset CC and developer contributions.