The Department for Transport (DfT) is considering plans for a sequel to ADEPT's Live Labs project, following the success of the initial programme of technological trials in local places.
Highways understands that under proposals sent to the DfT by council directors' body ADEPT, 'Live Labs 2' would focus on 'zero carbon highways'.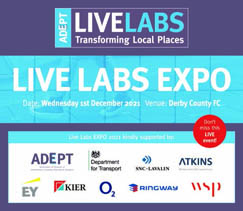 DfT has been considering the plans for several months and had talks with ADEPT about how they could be taken forward.
In a meeting of the UK Roads Liaison Group in the summer, co-director of local transport at the DfT Stephen Fidler said the department was supportive.
Official minutes from the meeting state: 'Stephen Fidler noted that at an officials' level there was support for the Live Labs 2 idea and that this would work well across the UK for application and support was being considered.
'Action: Stephen Fidler to work with UKRLG on the shaping proposal of Live Labs 2.'
ADEPT has also presented the proposal to the UKRLG as well as sister associations and public sector institutions in the devolved nations - suggesting there could be a wider scope for the trials this time.
Launched in 2019 following a competitive process, the ADEPT SMART Places Live Labs programme was funded with £22.9m from the DfT.
ADEPT received 28 bids from local authorities across the country. The winners were selected from a shortlist of bidders, who were asked to pitch their proposal in a 'Dragon's Den' session to a panel of leading experts.
Buckinghamshire County Council, Central Bedfordshire Council, Cumbria CC, Reading Borough Council, Suffolk CC, alongside joint entries by Solihull Council and Birmingham City Council, and Kent and Staffordshire county councils went on to win a share of the money to trial innovations on their networks.
Schemes ranged from using plastics in road surfacing treatment to harvesting renewable energy from roads and innovative data analytics.
A special grand finale conference showcasing the results from the first Live Labs programme is taking place in Derby this December.